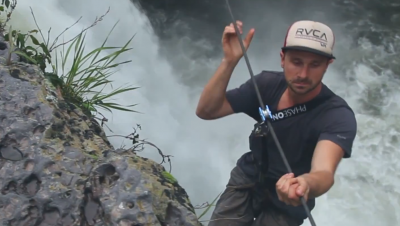 Photographer Tim Kemple is dedicated to pursuing the rawness and authenticity that only battles between man and nature can provide. In a recent project, he follows some of the world's best kayakers to the waterways of Mexico. It is not the first time he found himself in the wilderness. Kemple has been the senior contributing photographer to Climbing Magazine and logs a portfolio of work ranging from the peak of the world in Nepal to the snow-covered vastness of Alaska.
A constant innovator, Kemple uses creative–and oftentimes dangerous–techniques to get the best shots possible.
"I've never been much for vacations," the photographer said. "Maybe it's not in my DNA or I was raised by a pack of angry wolves."
True to his word, Kemple's trips around the world aren't vacations. They always seemed to involve more work than a vacation entails. Kemple's idea of fun involves being dead tired and sometimes teetering on the edge of terror. So he climbs some of the most dangerous paths in the world and braves jungle waters.
"We were constantly battling the elements: bugs, rain, and slippery cliff edges," said Kemple. "The most difficult part though was trying to be creative, and look at the angles with a fresh perspective…all while trying not to slip and fall, while it's raining and you are getting eaten alive by bugs. Creativity under extreme circumstances I guess you'd call it."
Kemple is never comfortable and never relaxed, which is just the way he likes it. Being a traveling photographer offers him a unique look at the places and people others never really get to know. As the athletes Kemple accompany push themselves to the limit, he must do the same.
You can hear Kemple speak a bit about his experiences below:
httpv://youtu.be/WtzUP3cVOxg
Image screenshot of video by PhaseOneDK on youtube