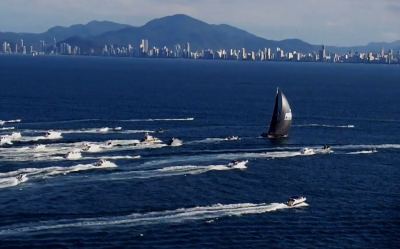 The Volvo Ocean Race is one of the most prestigious sailing competitions in the world, and one of the most daunting. With 11 participants to each qualifying boat, these sailors will brave 40,000 miles of open water in a global race spanning nine countries. The Volvo Ocean Race has recently announced the final destination of their 2014 route: the city of Lorient in France.
Ships will come to port in Spain, Brazil, the USA, New Zealand, China, Portugal, France, the United Arab Emirates, and Sweden over the course of the estimated nine month journey. Its organizers don't call it the "World's Toughest Sailing Race" for nothing: crews will race for weeks on end over some of the roughest waters in the world. In addition, they'll have to accomplish the feat while dining on mostly cans of dried food, one change of clothing and nearly no access to WiFi.
Strangely enough, there is reportedly no financial award for winning the race. The winners of the Volvo Ocean Race instead are presented with a breath-taking trophy in lieu of an over-sized check. However, with highly competitive sponsors, winners of the Ocean Race shouldn't be starving any time soon. Let's just hope they don't get paid in canned peaches.
Volvo Ocean Race's CEO Knut Frostad explains the race in a nutshell in the video below.
httpv://youtu.be/Fs3DGP6h5l4
Image screenshot of video by volvooceanracevideos on youtube