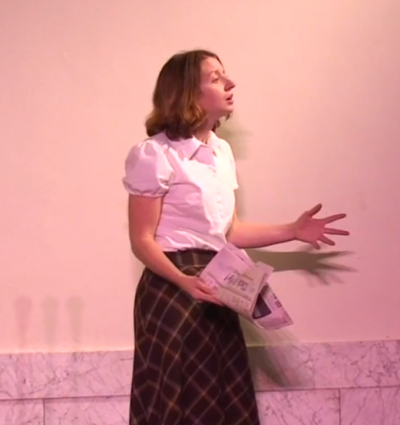 Late last month, poet and performance artist Crystal Hoffman set out on a literary pilgrimage that will presumably take just under a half year to complete. She will be traveling on foot from West Virginia to the Pacific Coast with her first major destination being Cincinnati. According to the project blog, Hoffman intends to catalog the landscapes and characters she meets along the way in a series of poems, often engaging in 15-minute interviews with passers-by. The effort is all part of her goal to revive the "mythic" feel of both poetry and America.
Hoffman recounted her first miles as being rough due to snow storms, route changes, and being unaccustomed to the fast pace of travel. The payoff is well worth it though, as Hoffman describes a sense of "trail magic" setting in. Along the way, she will pass by some of the best natural scenery available in the East Coast. Except for the areas which were affected by large-scale mining operations, Hoffman intends to stick to a route that will keep her as close to the wilderness as possible. Unfortunately she also passed by a number of dead deer, presumably caused by chronic wasting disease.
In only a short time of traveling, Hoffman already has a number of adventures under her belt. She jokingly brushes off peoples' initial suspicion of her and has set to interviewing nearly everybody who has time for her. This led to several tall tales of intrepid travelers, personal friends of Willie Nelson, and proposed cures for the dire medical condition of greed. It also led to her being booted out of a diner, supposedly for bothering the customers.
Hoffman admits that every night as she makes camp, a fear still sets in of the dangers that she could face. Whether it be the dark forest, wild animals, or the simple fact of a being a lone traveler, Hoffman says that she has not entirely overcome her fears.
That's not going to stop her though. Hoffman intends to keep writing poetry as her journey progresses. They will be available on her website here.
Image screenshot of video by pyaklich on youtube