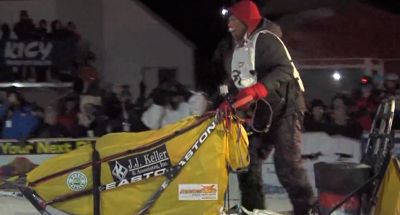 Mitch Seavey, 53, became the oldest winner of the history of the Iditarod dog sled race late on Tuesday. He and his 10-dog team arrived in Nome, Alaska after a fierce duel with fan favorite Aliy Zirkle.
According to the Associated Press, the two athletes dueled for the first spot in the 1,000-mile race and were never more than a few miles apart. Zirkle, who finished a mere 23 minutes after Seavey's 9-day, 7-hour, and 39-minute completion time, has nothing but praise for her opponent.
"Mitch has this ability to sit on the sidelines and refuel because he knows he needs to refuel, while everyone else is zooming by," she said at a press conference. "It's smart, and that's probably why you won."
Seavey returns the sentiment.
"You did a good job," Seavey told the runner-up. "You're going to win this thing, probably more than once."
As if closing a circle, Seavey's win comes after his son Dallas Seavey's triumph in 2012, which made the 25-year-old the youngest musher to win the race. The younger Seavey same in fourth this year and former champion Jeff King took third.
A prize pot of $600,000 will be split between the top 30 racers, with Seavey receiving $50,000 and a Dodge Ram pickup. Each finisher below 30th place will also receive $1,049. The last musher to complete the race will receive a traditional red lantern signifying perseverance.
Seavey previously won the Iditarod in 2004 and enjoys hunting when he's not on a sled. Zirkle also won second place in 2012 and hunts moose regularly.
You can watch Seavey pull into Nome in the video below:
httpv://youtu.be/bgFfTWUNbLo
Image screenshot of video by Jake Ryle on youtube , featured slider image copyright iStockPhoto.com/Matt Cooper