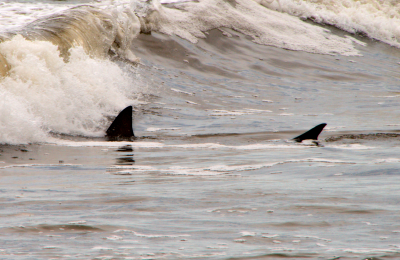 Spring breakers who came to the sunny beaches of south Florida hoping to get their feet wet are in for a disappointment. Tens of thousands of sharks have gathered on the state's south-east shoreline and prompted many beaches to close their shores.
"It's dangerous. It's not what you would expect. Families come out here to enjoy the weather, beach, and sand, but now they can't. They have to travel a little bit further than they should," visitor Guirlene Exantus told NBC Miami.
The sharks are on the move, and they prefer the same amenities that many beachgoers like. Specifically, sharks prefer the sweet spot of water between the coastal shallows and deep ocean. This means that the fish have been getting closer than some vacationers would like.
The migration has kept beach personnel busy since early march, but some say they won't take it anymore. Rather than risking an attack, many beaches have closed down as the sharks made their way from Boca Raton to Jupiter, Fl. So far residents have reported seeing blacktips and spinner shark schools.
"These schools can be thousands, or tens of thousands of individuals, so they're big schools of sharks; but they're not huge sharks," said Dr. Mike Heithaus, a marine scientist at Florida International University. "They're maybe five, five and a half feet."
Beaches that are open advise patrons to stay close to shore, remain cautious and to avoid wearing metallic jewelry as it attracts sharks. The animals aren't usually predatory towards humans but a fatal attack on a New Zealand film director made waves late last month.
Image from Christian Haugen on the flickr Creative Commons