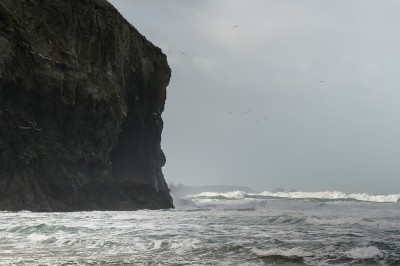 A young British couple, whose names have not been disclosed, were trapped on the Elie Chain Walk on the UK's Fife Coast when high water cut off their route earlier this week. According to The Courier, the stranded couple decided to climb up the side of a slippery rock face to escape the tide, but stalled 90 feet from the top. They then decided that the man would climb the rest of the way and get help.
The climb was nearly 140 feet in the dark and slick with water. Fortunately the man was able to get help from a nearby cottage.  Lifeguard rescue teams arrived and descended the rock face while boats lighted the area with search lights. The woman was found and hoisted back up by rescue workers who described her as cold and visibly frightened. No injuries were reported.
"It's not an easy piece of terrain at all," said Coastguard officer Craig Tough.
The Elie Chain Walk has a spotted history and is known to be the site of similar incidents in the past. Historians believe that the trail was created by fishermen who set up chains to help traverse the area's rocky ground.
Image from Miles Wolstenholme (@MWolstenholme) on the flickr Creative Commons