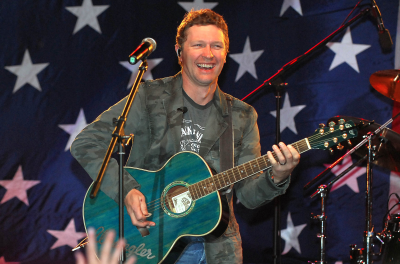 Country singer and the eponymous host of Craig Morgan: All Access Outdoors, Craig Morgan will be pushing his survival skills to their limits as he enrolls in the Fjaellraeven Polar sled dog expedition.
"I've jumped out of airplanes, been on scuba trips, and I was just in the Bahamas in a cage with sharks," Morgan told Reuters. "Still, this is pretty extreme in my book."
The 205-mile trip will span from Norway to Sweden over mountainous –and frozen- terrain. Morgan will be bringing along his son Kyle as well as the camera crew from his show to document the adventure.
The outdoorsman is looking forward to training with his team of sled dogs but admits the situation is unlike any he's ever been in before. Sled dogs are highly disciplined and trained. They have to be, survival in the cold often depends not only on human teamwork, but those of the animals as well. These dogs are known for their fierce loyalty, and many owners liken them to friends and companions rather than pets. Sled teams usually include a leader, "wheel" dogs and "swing" dogs. While many breeds of canines are suited for the task, Siberian huskies are the most well-known of sled carriers.
Morgan himself is as equally well suited to the task, although it is a departure from his normal adventures. The U.S. Army veteran previously tried his hand at Alaskan bear hunts, aeriel bowfishing and even a "redneck lawn mower race."
"I'm a survivalist," Morgan said. "Anytime I get the opportunity to test my survival skills I jump at it."
The expedition will take place April 9-13.
Image courtesy David L. Smart / United States Navy