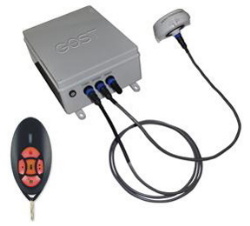 A 31' Yellowfin equipped with a GOST (Global Ocean Security Technologies) NT Evolution wireless GPS tracking and security system was stolen out of the Marsh Harbor area of the Bahamas in the early morning hours of February 13. The boat had just arrived in the Abacos the day before from the United States. The GOST system located the boat drifting with no one aboard.
Unfortunately, the GOST NT Evolution system was mistakenly left disarmed when the Yellowfin arrived at Marsh Harbor. Had the system been armed, it would have most likely prevented the boat from being stolen, due to the sirens and strobes that would have gone off. However, the GOST NT Evolution system was still able to locate the vessel and it was recovered successfully.
"While we encourage our clients to assure that the GOST NT Evolution is armed when the vessel is not in use, the two-way Inmarsat based GOST NT Evolution quickly located this stolen boat with minimal damage to the hull, engines and electronics. Our client is thankful for the GOST™ NT Evolution and the timely assistance of the Marsh Harbor Police Department and he is very happy that he can still salvage a fishing holiday with his boat in the Bahamas," said Brian Kane, GOST Director of Research & Development.
The GOST NT Evolution and other GOST Nav-Tracker systems use the Inmarsat Satellite Network and provide global coverage everywhere except the most extreme poles with 99.99% reliability mandated by the IMO.
Some insurance companies now require GPS tracking devices, like the GOST NT Evolution or GOST Nav-Tracker, to be installed on high performance boats. Many insurance companies also offer discounts off annual premiums for vessels with GOST security, monitoring, tracking or surveillance systems on board.
Image courtesy Home Port Marine