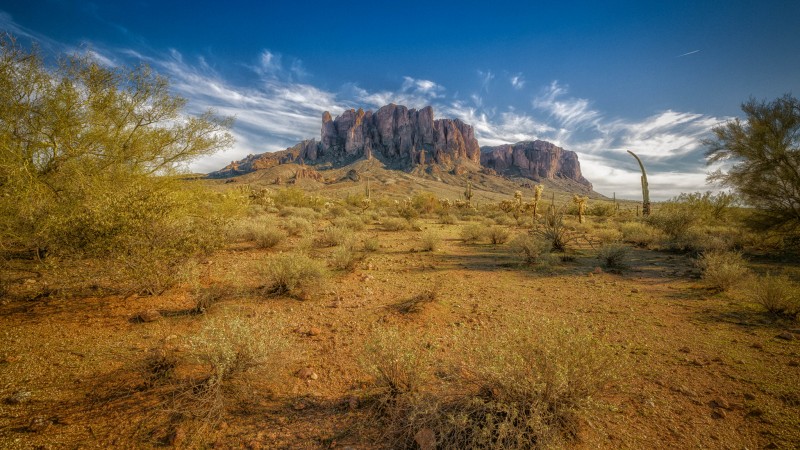 Somewhere in the aptly named Superstition Mountains of Arizona, it is rumored that a lost mine of untapped gold awaits. Dubbed after German prospector Jacob Waltz, the Lost Dutchman Gold Mine has been the target of intrepid hikers, adventurers and treasure hunters since the late 19th century. The Lost Dutchman is arguably the most famous lost mine in American history and draws a reported 8,000 searchers annually.
However, no signs of this Arizonan El Dorado has yet been found. Rescue worker David Bremson says it's because the mine doesn't exist. He tells would-be prospectors to spare themselves the trouble and danger of Superstition, or at least come prepared.
According to USA Today, Bremson serves as the operation chief with the Central Arizona Mountain Rescue Association, a group of volunteer outdoorsmen specializing in canyon and cave rescues. The association does not charge for its life-saving services, in fact, members hoof most of the group's annual $40,000 in expenses themselves.
A large portion of their rescues center around Lost Dutchman hunters. Bremson isn't trying to put the legend down (although it would save his people some work), he just wants hikers to be well prepared for the mountains.
"Bring a cellphone and a bottle of water, that's their mantra," he said. "Now, they go out into the backcountry, where one bottle of water will last 15 or 20 minutes, and their cellphone doesn't work."
The Lost Dutchman is responsible for many deaths in its spotted history. Last year the body of a veteran Lost Dutchman lore expert, Jesse Capen, was found in a crevasse in the Superstition Mountains. Capen previously spent ten years immersed in the legend of the hidden mine, but that knowledge did not save him on one ill-fated trip in 2009. It took three years for his remains to be recovered.
More recently the rescue association picked up Robin Bird, a second-time hunter who had been previously rescued in December. She was extremely dehydrated, a common and lethal threat of traversing the mountains without adequate preparations.
"Had they not found her when they did, she would have succumbed from the elements," Bremson said. "She was not prepared to survive another night out there."
Instead of criticizing the searchers, rescue workers offer some valuable tips:
Bring a map and compass along with phones or GPS devices. Electronics can run out of battery life, paper doesn't.
Check weather conditions.
Be sure to let someone know where you are going and when.
Bring basic items such as food, water, extra clothing, a knife and fire-starting equipment.
Be aware of basic hiking practices and make sure your body is in good condition before attempting a hike.
Know your plan, and know when to call it quits. Long treks increase exposure to the elements.
When in trouble, call for help. The Central Arizona Mountain Rescue Association is after all, free.
Image from Cedward Brice (CEBImagery.com) on the flickr Creative Commons