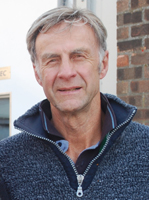 Veteran British Explorer Ranulph Fiennes ran into a disastrous snag just a month before setting out on "The Coldest Journey"–a six-month, 2,500 mile-expedition across Antarctica–commenced.
According to CNN, Fiennes was attempting to fix a loose ski binding in -30 degrees Celsius weather when he developed a severe case of frostbite on his hand. Fiennes had previously lost five fingers on previous expeditions and he knew full well the dangers of an Antarctic journey.
"I am doing this for many reasons, some of which I don't fully understand," he said before embarking for the frozen continent. "That there is an inner urge is undeniable."
The British explorer is famed for being the first person in history to visit both North and South Poles by surface and also the first to cross the length of Antarctica on foot. The 68-year-old had planned this record-breaking trip to be possibly his last.
Fiennes is being transported via snowmobile to Princess Elizabeth Station in northern Antarctica and will eventually be sent to Cape Town. It is fortunate that Fiennes is closer to the coast rather than in the interior of the continent, where outside help may not always be possible.
The five remaining expedition members will begin the journey without Fiennes on March 21. The absence of their leader will be felt, but each team member is experienced in extreme environments and has trained to deal with such an eventuality. The expedition will travel from Crown Bay to Ross Island in order to benefit the charity Seeing is Believing, and to gather scientific data.
Image courtesy The Coldest Journey