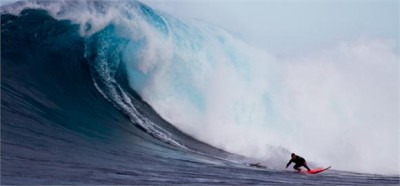 Dave Wassel encompasses everything that it means to be a waterman. He is a North Shore lifeguard, a long time big wave surfer, and a free diving addict.Body Glove International is proud to announce that Wassel will be riding for them in both surf and dive categories.
For over a decade, Dave Wassel has been in an elite group of big wave surfers. For the last three years, Dave has been invited to the In Memory of Eddie Aikau and last year, he made the cover of both Surfer Magazine and Surfing Magazine for riding a giant swell at Tavarua. Along with all of that he also won the Monster Paddle Award in the XXL Big Wave Awards for a 53-foot wave at Jaws.
"We are really stoked to have Dave as a part of the family. He is, with out a doubt, one of the greatest watermen in the world and fits the Body Glove brand perfectly," says Greg Browning, Body Glove International's Marketing Director.
More recently Wassel was invited to the Mavericks Invitational and will be competing in the Volcom Pipe Pro. He has a Wave of the Winter entry for a ride at Backdoor that can be viewed on Surfline.com. Also, keep your eye out for Dave in the new TransWorld Surf video, featuring several top of the line athletes.
Body Glove team rider Alex Gray said, "Dave Wassel fits Body Glove like a glove. From big wave surfing, diving, and hunting, Wassel's footprints are always the most recognizable. Not to mention he is one of the funniest humans on the planet. Body Glove couldn't have added a better waterman to excel an already stellar team. Can't wait to get crazy with the man from Kailua shorebreak."
Image courtesy Body Glove