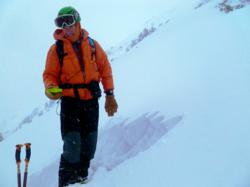 John Yarington has been out testing both the Garmin fenix GPS watch and the Suunto Ambit here in the Montana back country in harsh, cold conditions.
John has been doing a ton of vertical feet getting ready for a big ski trip to Kyrgyzstan with his wife Deb to ski with the Ptor Spricenieks, who was the first skier to ski the north face of Canada's Mount Robson.
httpv://youtu.be/oiOjCBuUf44
Garmin Fenix Moisture Glitch
John heard in December that the Garmin fenix watch was on warranty due to moisture penetration issues. "Fortunately, I don't swim with it", says John. He adds, "I did notice some moisture from showering with it, which didn't seem right". The new replacement Garmin fenix watches with the moisture issues fixed will be available around March 1st according to Garmin.
GPS Watches and Back Country Skiing
As with so many things that the Heart Rate Watch Company blog seems to report on first, John Yarington has discovered a very unique solution to what could become a life threatening circumstance in the back country. "A GPS watch can interfere with avalanche transceivers if they are too close, which could make the difference between life and death for someone you are searching for", says Yarington.
This problem affects Suunto Ambit, Garmin fenix and all GPS watches and the key to resolving it is fully identified in his recent post at the Heart Rate Watch Company Blog
Personal Attachment
"My brother-in-law was killed in an avalanche in the Ruby Mountains of Nevada and I have spent decades in the back country of the Rocky Mountains and Canada", says Rusty Squire, President of the Heart Rate Watch Company. He adds, "The kind of information that John Yarington has to dispense could save lives and if we can play a small part in someone else never having to lose a loved one then this would be wonderful".
To read John Yarington's complete blog post regarding GPS watches and the interference they can create with avalanche beacons just visit the Heart Rate Watch Company blog and check out his most recent post.
Image courtesy Heart Rate Watch Company