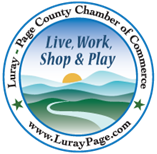 Page County, Virginia (including the towns of Luray, Shenandoah and Stanley), has received approval for official designation as an Appalachian Trail Community from the Appalachian Trail Conservancy (ATC), the nonprofit responsible for management and protection of the Appalachian Trail (A.T.)
There are just 29 such designated communities along the 2,184.- mile Trail.  The title recognizes communities that promote the A.T. as an important asset and stimulates awareness of the protection the Trail needs.
"The A.T. is under a constant barrage of pressure from external threats," commented Karen Lutz, Mid- Atlantic Regional Director of ATC.  While the Trail is sometimes considered safe from encroachment, forces such as  development, power line erection, natural gas pipelines, road-building and utilities can affect hikers' experience on the trail and the unique natural heritage and resource within its 250,000-acre corridor. ATC works with trailside communities in 14 states from Georgia to Maine, and tries to get involved early in land use planning to minimize impacts to the trail.
With several access points to the A.T. (and many other trails in Shenandoah National Park and George Washington National Forest), Page County has an established reputation as a "hiker-friendly" area with a strong commitment to sustaining outdoor recreation. Cycling, camping, horseback riding, fishing, canoeing, cavern-exploring and other activities are hugely popular.
"The Appalachian Trail Conservancy is proud to celebrate communities that are helping to protect and promote the Appalachian Trail," said Julie Judkins, Community Program Manager for the ATC. "These new partnerships will increase local stewardship of public lands, support community initiatives for sustainable economic development and conservation planning as well as support healthy lifestyles for community citizens."
"Page County offers a full slate of services to those enjoying the A.T., whether they are just out for the day or attempting the entire Trail," said John Robbins, president of the Luray-Page County Chamber of Commerce.  "We are truly honored to receive this designation and think it confirms our reputation as a hub for outdoor recreation. We thank the ATC, and the Potomac Appalachian Trail Club, which helped us garner this recognition."
To celebrate the official A.T. designation, a ceremony and a number of activities will be conducted May 11th, 2013 during Luray's Festival of Spring. More details will be announced soon.
Logo courtesy Luray – Page County Chamber of Commerce