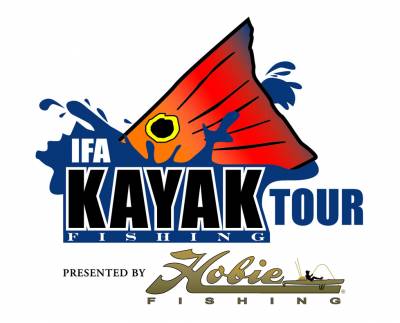 Lowe tournament entry fees and over 100 percent payback at every event
The Inshore Fishing Association (IFA) Kayak Fishing Tour presented by Hobie Fishing recently unveiled the official 2013 tournament schedule, complete with lower tournament entry fees and over 100 percent payback at every event. The 2013 schedule includes two regular-season events in each of the tour's five divisions and guarantees a cash payout of $1,500 for first, $1,000 for second and $500 for third place.
The IFA Kayak Fishing Tour regular season opens in Placida, Fla., on March 17 and wraps up at Ruskin, Fla., on Sept. 15. The $50 entry-fee championship is set for Oct. 17-19, at Houma, La. Tournament registration for the 2013 season is currently underway.
Each of the 10 regular season events will feature a catch-photograph-release tournament format. Reflecting the IFA's commitment to delivering the best value to inshore anglers across the country, the Kayak Fishing Tour will introduce even lower tournament entry fees for 2013. With entry fees reduced from $100 to $50 per event, the IFA Kayak Fishing Tour will continue to offer over 100 percent payout, plus contingency opportunities for anglers at every event. Also, for an additional $50, anglers can sign up for the Angler's Advantage program, which allows participants to compete in an even higher payout bracket.
The fastest-growing kayak fishing tournament trail in the country, the IFA Kayak Fishing Tour Presented by Hobie Fishing offers inshore kayak anglers from a multitude of states the opportunity to participate in competitive fishing tournaments. With low entry fees and minimal travel requirements, kayak anglers competing in the catch-photograph-release tournaments can take advantage of the rich prize structure awarded to competitors. First-place prize at the IFA Kayak Fishing Tour Presented by Hobie Fishing Championship, regardless of field size, is a Hobie Mirage Pro Angler kayak valued at $2,549. Second and third place finishers are awarded cash prizes of $1,500 and $750, respectively, with a Hobie Advantage Prize of $1,000.
2013 IFA Kayak Fishing Tour Schedule
Atlantic Division
June 9 – Charleston, S.C.
Aug. 4 – Savannah, Ga.
Florida East Coast Division
April 28 – Jacksonville, Fla.
June 30 – Titusville, Fla.
Florida West Coast Division
March 17 – Placida, Fla.
Sept. 15 – Ruskin, Fla.
Louisiana Division
May 19 – Empire, La.
Aug. 25 – Grand Isle, La.
Texas Division
April 14 – Port Aransas, Texas
September 8 – Aransas Pass, Texas
Championship
Oct. 17-19 – Houma, La.
Logo courtesy Inshore Fishing Association