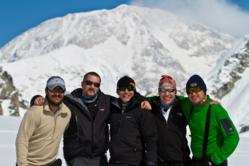 A team of descendants of the original expedition who first successfully climbed Mt. McKinley 100 years ago will attempt the same climb this spring, bearing a message of achievement to young Alaska Natives.
Dubbed the Denali 2013 Centennial Climb, Dana Wright, Ken Karstens, Ray Schuenemann, Dan Hopkins, and Mark Lattime will begin their ascent on June 7, 2013, a hundred years after their forebears reached Denali's summit. Denali is the Alaska Native name for McKinley, meaning "The Great One."
Wright is the great-grandnephew of Walter Harper, the 21-year old Athabascan who was the first person on Denali's peak. Ken Karstens and Schuenemann, great-grandsons of Harry Karstens, who was second on the mountain and a team leader, will climb. Hopkins is the great-great nephew of Episcopal Archdeacon Hudson Stuck, who was also a team leader. Lattime, who is the Episcopal Bishop of Alaska, plans to hold a Eucharist on the mountain and honor the memory of Stuck.
The Centennial team will follow the same treacherous and complex route on the North Side of Denali through McGonagal Pass, and up the Muldrow Glacier and along Karstens Ridge into the great basin between Denali's peaks. The route foiled many attempts by previous expeditions before the 1913 summit, and was the only practicable route at the time. Modern mountaineers use the west buttress route from the airstrip on the Kahiltna Glacier.
The team particularly wants to note the achievements of Harper and John Fredson, a 16-year old Athabascan who lived off the land while caring for a team of sled dogs and the base camp for over a month alone waiting for the team to return, by sharing their adventure with young people via the Internet.
The team has partnered with FindingLife, a nonprofit organization that combines adventure, education, technology, film and charitable initiatives to inspire young people to create positive change. Participants will learn while interacting live online with expedition members, watch video webisodes from the mountain and follow the team's progress via GPS tracking.
The National Congress of American Indians and the Alaska State Board of Education have endorsed the climb.
"This achievement is something young Alaska Natives can be very proud of, and it will help them believe that anything is possible," said Mike Harper, grandnephew of Walter Harper. "It's also a story that should be shared with audiences around the world."
Image courtesy PR Media Now