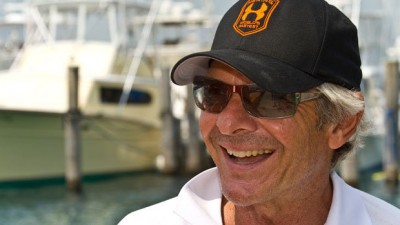 Statement Marine, LLC, the St. Petersburg, Florida-based custom builder of high-end offshore performance boats, has enlisted marine industry veteran Craig Barrie to direct its sales efforts.
Barrie, whose lengthy marine industry career has included stints as president of Cigarette Racing, owner/founder of Dragon Powerboats, and most recently vice president of Donzi Marine, has made dealer development his top priority at Statement.
"Statement's co-founders Nick Buis and Todd Werner are hands-on owners who have built this company to the point where it's ready to be taken to the next level, said Barrie. "They have created a talented team, built an impressive product line, and they've delivered a surprising number of boats by selling them one at a time. We're now creating what will be the very best dealer network in all of high performance boating, to extend the reach of that hands-on approach to performance boaters worldwide."
According to Barrie, the number one criterion for consideration as a Statement dealer will be "industry expertise." Barrie explained, "We're going to add experienced dealers who know high performance boating inside and out, and who place a strong emphasis on service."
Joining Statement's Key Largo, Florida dealer New Boats Direct and St Petersburg, Florida dealer Pro Marine USA are new dealers Aqua Mania of Alexandria Bay, New York; Erickson Marine of Sarasota, Florida; Fastboats Marine Group of Aventura and Pompano Beach, Florida; and Ocean Performance of Old Saybrook, Connecticut.
Additionally, Barrie has brought aboard Blane Aarup, a marine industry sales expert formerly representing Donzi and Baja, to assist in Statement's dealer outreach. "Dealer interest in Statement has been extraordinary," said Barrie. "Blane and I are in discussions with several US and international dealers now and we'll be meeting with several more in Miami. We are actively looking to expand Statement's sales reach by implementing dealer-friendly programs and practices, and in addition to the new dealers announced today, we will be bringing aboard additional dealers shortly."
Barrie will be heavily involved in Statement's product development efforts, as well. "We have taken an in-depth look at Statement's offerings, and we will continue to evolve the product line to lead the latest market trends," said Barrie. "Statement will once again turn heads at the Miami International Boat Show, where we'll be bringing a 50' cat powered by twin 1350 Mercs, a 42' Ultimate that stars in an upcoming movie that our marketing director Josh Stickles has been working on, our first quad-engine 38' center console built for another longtime marine industry friend Bob Christie, and a very nicely equiped 35' center console. We have revamped our entire pricing structure and are making significant additions to the standard and optional features lists of every boat in the Statement lineup."
Image courtesy Statement Marine