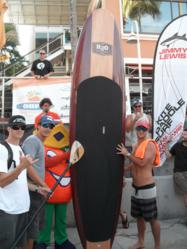 This is setting up to be a very good weekend for the Florida SUP community as well as the victims of Hurricane Sandy. The Corona Light Tampa Bay Winter SUP Race Series kicks off their third of four races bringing SUP racers from all over for fun and competitive racing which benefits local charities. Presented by Saltwater Kite & Paddle, this race will benefit The American Red Cross and Hurricane Sandy victims.
The H2O Generation will be giving away a "Big Boy Cadillac" stand up paddle board which will be raffled off to help raise donations for The American Red Cross. The H2O Generation is headquartered in Rockaway Beach, New York which was devastated by Hurricane Sandy. The company weathered the storm and this event is very close to their heart as they are still rebuilding the community.
httpv://youtu.be/aKsvPGKoS3M
The H2O Generation is a stand up paddleboard manufacturer that has introduced a line of innovative stand up paddleboards hybrid with that familiar retro surfboard design. H2O Generation products appeal to the classic surfer, but satisfy the adventurer in everyone. The company believes that stand up paddling is more than just taking control of the waves or the feeling of cruising along the glassy waters at sunset. To the H2O Generation, it's a movement, a thirst for life and adventure while staying grounded in old school surfing values.
The Corona Light Tampa Bay Winter SUP Race Series features a two mile fun and six mile race class which makes it fun for all involved. Racers will start at Tampa Bay's very own Urban Kai on the Hillsborough River and wind through the beautiful backdrop of downtown Tampa.        We welcome everyone to come out and support our racers and The American Red Cross at this exciting event…See you at the races.
The race is being held this Saturday February 2nd at Ricks on the River and will kick off at 11am.
Registration: 8:30am – 10:00am
Location: 2305 N. Willow Ave. Tampa, Florida 33607
Entry Fee:$35.00
Image courtesy The H2O Generation