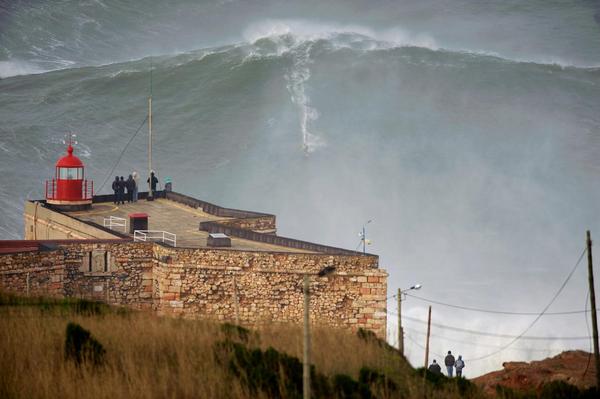 Hawaiian surfer and world record holder Garrett McNamara may have outdone himself by riding a reported 100+ feet wave off the coast of Portugal on Monday. According to Surfer Today, McNamara returned to Nazarè, Portugal with jet ski support and fellow wave hunter Kealii Mamala when a massive swell hit. As you can see from the picture, the buildings were dwarfed by the skyscraper wave. Early estimates have put it at the same height as some of the higher tidal surges during the 2011 Japanese tsunami.
McNamara is no stranger to monster waves, holding the Guinness World Record for a 78-footer caught in May of last year. The 2012 feat bested the previous record by only one foot and took place also at Nazarè. Local conditions caused by a northwestern rush and southern winds culminate in perfection conditions for those looking to tackle the biggest waves, so it's no wonder that McNamara returned.
Ten-story waves are rare even for those who travel the world in search of them. McNamara said last year that finding one is like pitching a perfect game in baseball.
"But add to that the fact that the stadium could collapse on you at any second," he added.
Watch video of the feat below.
httpv://youtu.be/pOHDZpPvbIc
Experts are currently working to confirm the wave height. News of the accomplishment is going viral on the internet with a flurry of twitter posts such as the one below:
https://twitter.com/ciscosalvador/status/295975707446738945
Image from Francisco Salvador on Twitter