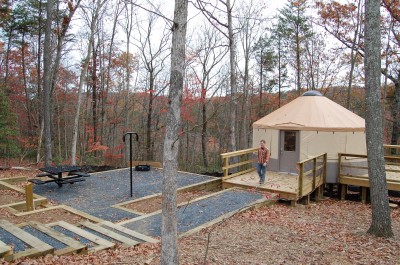 One of Georgia's most beautiful state parks has joined the new trend for "glamping" – or glamour-camping.  Cloudland Canyon State Park on Lookout Mountain now offers 10 yurts for guests wanting to stay overnight in the park.  Made of canvas and wood, yurts are like a combination of a tent and a cabin.  They're the perfect choice for those who enjoy being in nature but prefer a soft bed at night.
"Yurts are quite comfortable and affordable, plus they're fun to stay in" said park manager Bobby Wilson.  "A few other state parks have them as well, and they stay booked up pretty far in advance.  I'm excited about offering these to our guests, whether it's a couple looking for somewhere unique to stay, or a large family wanting to rent several at a time."
The park's yurts are nestled into the forest, just a short walk from the West Rim Trail and scenic overlooks.  Each one has rustic furniture and electrical outlets inside, with picnic tables, grills and fire rings outside.  Hot showers, a picnic shelter and playground are centrally located.  Guests bring their own linens and cooking items.  Bunk beds and futons will accommodate six people per yurt.
Cloudland Canyon State Park is considered by many to be one of the most scenic places in Georgia.  Sitting on the side of Lookout Mountain, it features a rugged 1,980-foot-deep canyon.  Spectacular views are an easy walk from the picnic area; however, hikers can also explore a rim trail and the canyon floor.  Two waterfalls cascade over layers of sandstone and shale into pools below, with their flow depending on recent rains.
The park also offers two modern campgrounds and 16 fully equipped cottages.  An enclosed group shelter and open-air picnic shelters are popular spots for reunions, parties, weddings and company picnics.  With the addition of the new yurts, groups enjoy a variety of accommodations so that everyone can stay overnight.
Officially opening on December 1, the park's 10 yurts rent for $70 each.  Yurts are also available at Red Top Mountain, High Falls and Fort Yargo state parks.  Reservations are highly encouraged and can be made up to 13 months in advance.  For more information, call 706-657-4050 or visit GeorgiaStateParks/yurts.
Image courtesy Georgia DNR