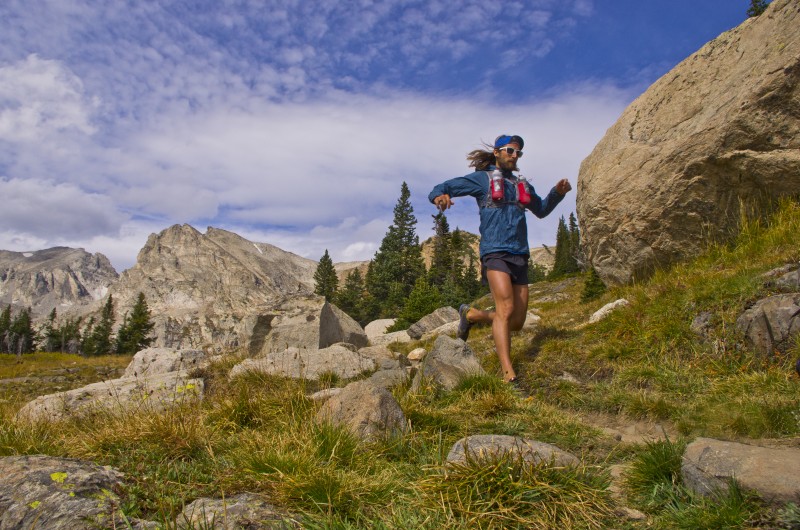 Krupicka, minimalist runner and co-designer of the new Ultimate Direction Race Vest, surpasses fastest known time by almost 50%
Ultimate Direction, respected innovator of on-the-go hydration solutions for walkers, runners, and adventurers, is proud to announce Anton Krupicka, minimalist runner and co-designer of the innovative Signature Series AK Race Vest, has set a new fastest know time (FKT) for ascending and descending the 13,804′ Gannett Peak, Wyoming's tallest mountain.
Normally done in three days and requiring a full complement of mountaineering equipment, Gannett Peak was climbed on September 18 by Krupicka in 8 hours and 46 minutes with nothing more than an Ultimate Direction water bottle and 13 energy gel packets.
"Going fast requires – above all else – paying attention, and achieving that fleeting measure of grace where my effort and abilities are meshed perfectly with the challenge. This is a huge motivating factor in what I do," said Krupicka. "I find that this practice of paying attention is one of the more instructive and valuable takeaways that a trip to the mountains offers me."
Set just three years ago, the previous FKT was 12 hours and 39 minutes. Improvements of almost 50% are almost unheard of in any sport.
Krupicka's ascent/descent exemplifies the ongoing evolution of technical endurance sports. As very fit athletes learn technical skills and bring them to new sports such as mountaineering, previous standards and accepted techniques are falling by the wayside. Krupicka is a solid ambassador for this trend, as he has a high degree of respect for mountaineering culture, is well-versed in climbing and scrambling, has studied the route, and views this learning process as the only path to success.
For a complete account of Krupicka's summit of Gannett Peak, please read his post on the Ultimate Direction blog: http://blog.ultimatedirection.com/gannet-the-grand-a-wyoming-whirlwind-tour/
Weighing in at a feathery 6 ounces, the AK Race Vest that Krupicka helped design is the world's lightest hydration pack.  With all the features you'll need for short to medium length runs and races, the AK Race Vest offers twin front-mounted bottle pockets for quick refills, a 4.5 liter main compartment for gear or a reservoir, and several smaller pockets easily accessed on the go.
Image courtesy American Rec