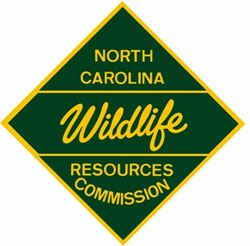 The N.C. Wildlife Resources Commission has completed renovations on the Poplar Branch Boating Access Area and it is now open to the public.
The site, which gives boaters access to the Currituck Sound, has two new ramps, floating and fixed docks, a new bulkhead wall and a newly paved parking area. It was paid for through Sportfish Restoration Fund and motorboat registration receipts.
"We get folks fishing for bass and white perch, but we mainly get duck hunters in Currituck County at this site," said Ric Wright, a construction project manager with the Commission. "We also get a lot of boaters here, vacationing in this area of the state."
The N.C. Wildlife Resources Commission manages more than 200 free boating access areas across the state. Go online for an interactive map of all the sites.
Logo courtesy North Carolina Wildlife Resources Commission