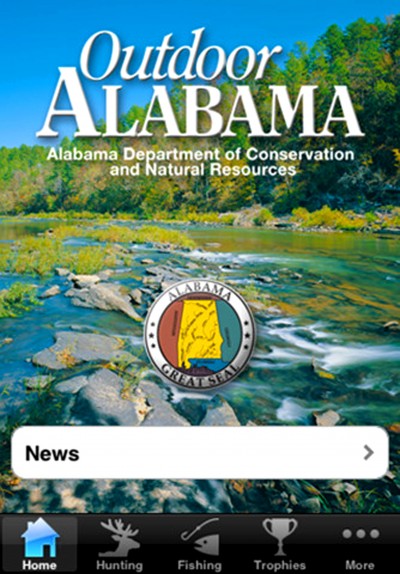 The Alabama Department of Conservation and Natural Resources (ADCNR) has debuted it first official mobile app for iPhone, iPod Touch, and iPad. The app, Outdoor Alabama, can be downloaded for free from the Apple iTunes store and features a variety of useful tools and information for outdoor enthusiasts.
Features of the Outdoor Alabama app include:
The ability to purchase an Alabama hunting and/or fishing license
The ability to report your harvest through the ADCNR website
Useful information on hunting and fishing regulations
Fish identification
A personalized trophy case for logging and sharing your harvest with friends
"Near Me" mapping for locating Wildlife Management Areas
"The Outdoor Alabama app was developed with hunters, anglers, and other outdoor enthusiasts in mind," said N. Gunter Guy, Jr., ADCNR Commissioner. "This app gives them access to the state's best outdoor adventures via their smartphone. We encourage everyone to explore this app and share their outdoor experiences with other users."
Currently there is no Android version of the Outdoor Alabama app.  Version 1.0 can be found by searching for "Outdoor Alabama" in the Apple iTunes app store.
The Alabama Department of Conservation and Natural Resources promotes wise stewardship, management and enjoyment of Alabama's natural resources through five divisions: Marine Police, Marine Resources, State Lands, State Parks, and Wildlife and Freshwater Fisheries. To learn more about ADCNR, visit www.outdooralabama.com.
Image courtesy Alabama Department of Conservation and Natural Resources