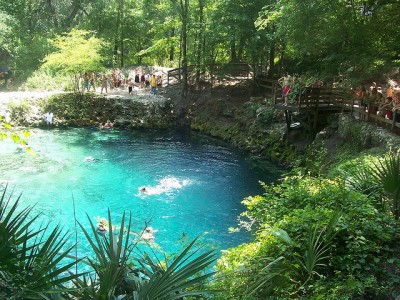 The Take Me Fishing campaign, part of the Recreational Boating & Fishing Foundation (RBFF), took to Facebook to determine the top eight state parks in the United States that are the best for fishing, boating and water-borne family fun. Fans of the Take Me Fishing Facebook page voted between 24 natural "waterparks" and state parks over the course of eight weeks to determine the outcome.
The eight state parks deemed to be the best in America are:
Lake Murray State Park, Oklahoma
Itasca State Park, Minnesota
Blue Spring State Park, Florida
El Dorado State Park, Kansas
Presque Isle State Park, Pennsylvania
Cave Lake State Park, Nevada
Fall Creek Falls State Park, Tennessee
Wellington State Park, New Hampshire
RBFF President and CEO Frank Peterson said families are looking for unique and affordable trips that are available to a large percentage of Americans. About 90 percent of Americans live within one hour of navigable water and the cost for a family fishing license is about $115, in contrast with a season pass to a conventional water park at $500 (for a family of four) according to the RBFF's press release.
In addition to the cost benefits for the family, spending time and enjoying yourself in nature aids the places people visit.
"A portion of all fishing tackle and license sales, as well as boat supply and registration sales, fund the conservation and preservation of our nation's waterways helping to ensure that future generations can enjoy all that nature has to offer," said Peterson.
Each lake and state park has something unique to offer and not just in the summer. Cave Lake State Park, for example, is a great place for trout fishing, boating, swimming, hiking, camping and picnicking in the summer, but in the winter is it open for ice skating, ice fishing and cross-country skiing.
"We regularly stock Cave Lake with rainbow trout in addition to the native brown trout available, which provides excellent opportunity for anglers," said NDOW fisheries biologist Chris Crookshanks. "Fishing is excellent from the shore as well as from boats and crawdadding is also permitted."
Image from Paul Clark (systemslibrarian) on the flickr Creative Commons