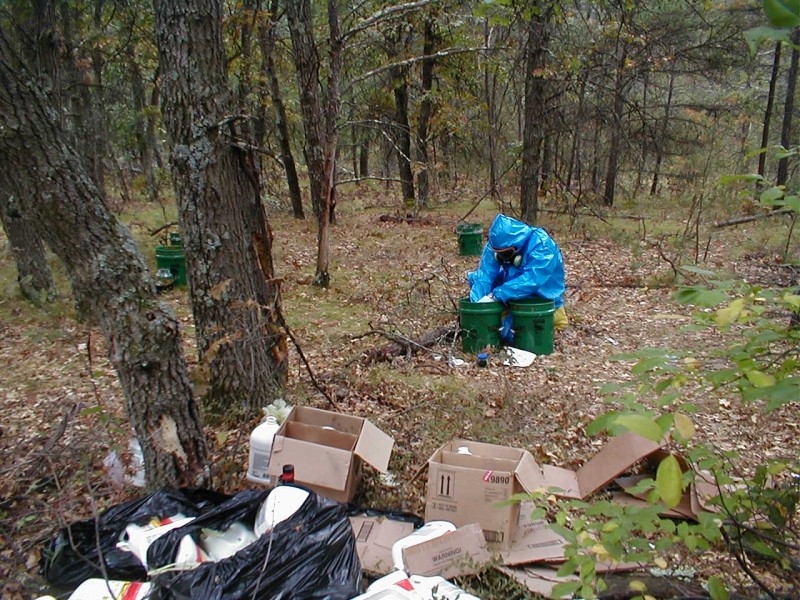 The case of Eau Claire's defendant with the golden touch started on Sept. 29, 2009. That's when a bow hunter came upon what looked like an abandoned drug lab left under the stars in the county forest.
The state Department of Justice's Division of Criminal Investigation (DCI) got the tip and headed to what they anticipated would be a drug crime scene. But once they saw the scorched earth, they knew it was something else. This was a crime against the environment. So they called in DNR Warden/Investigator Brian Knepper of the Bureau of Law Enforcement's Environmental Crimes Unit.
Once Knepper saw those peculiar acid burns on the ground, he knew he was onto something that had nothing to do with a hallucinogenic.
This was a gold reclamation scheme that, when solved, sounded a lot like a scene from the movie, Shawshenk Redemption – except this defendant wasn't dropping wall pieces in a prison yard.
This guy was simply taking his work home – a few bits at a time.
He'd end his work day on the assembly line at Hutchinson's Technologies in Eau Claire by walking out with a few high-tech components hidden in his pockets or in his cap. Once home, he'd go through an elaborate acid process to pull the gold from the components.
On April 26, 2012, on the environmental charges in 10-CF-753, Hagen pled guilty to disposing and storing hazardous waste without a license and failing to submit hazardous waste reports to the DNR, as required by Wisconsin law. Eau Claire County Judge Paul J. Lenz placed Hagen on probation for three years with a condition that he serve four months in jail and pay a fine of $100.00 and costs, and $4,187.05 in restitution to the DNR for its expenses.
In 10-CF-208, Hagen pled guilty to one count of felony theft and five counts of misdemeanor theft. Judge Lenz placed Hagen on probation for three years with a condition that he pay $55,625.80 in restitution to Hutchinson Technology, Inc., and serve five months in jail, concurrent to the jail sentence that he received for the environmental violations.
'Finding clandestine items deep in the forest is always intriguing'
The bow hunter's was about a blue cooler with a dozen containers, jars and 5-gallon pails in the county forest.
"I knew this case was going to be interesting right away, finding clandestine items deep in the woods is always intriguing," said Knepper, a skilled investigator recently named the Homeland Security Coordinator for the DNR's Bureau of Law Enforcement. "This case took some thought and planning."
It took Knepper and the DCI Investigators until 8:30 p.m. that 2009 day to clear the evidence scene in the Eau Claire County Forest. The officers spotted numerous distinctive black burn marks on the forest floor. "You could see these tiny gold flecks of thin metal mixed in with the leaves and other forest brush," he said.
Knepper and the investigators also found buckets and bottles of two kinds of acid – muriatic and nitric. "But there were no tracking numbers on these bottles."
Then, the investigators spotted a box among the trees. "This was the first real crucial lead in the case," Knepper said.
It wasn't so much the box or where it was. It was the numbers on the box led to the store that really got the case going. More on that later.
What needed immediate attention was clearing the dangerous acid-laden soil and debris threatening painful burns to both forest-users and wildlife. Once the crime scene was processed for evidence that night, Knepper called in other DNR staff to coordinate the necessary clean-up.
Knepper's criminal environmental investigations always involve taking samples. And the samples taken that day were telling. This acid was hazardous waste beyond a doubt.
"Acid with a pH ranging below 2 is considered hazardous waste," he said. "This stuff was super acidic and registered between negative 2 and negative 1. It even burned the pH paper and turned it an odd brown color.  This happened because regular pH paper is only designed to handle acid up to zero.
"Imagine what that could do to a paw, hoof or a curious kid's hand."
Next stop: the store where that box came from
Knepper knew the box found in the forest came from the Eau Claire home products store – Menards. Working together with the Menards store security team members, Knepper was able to piece together the store's evidence and link it to one repeat customer – Matthew Hagen.
Through the evidence located at the scene, Knepper was able to determine that Hagen purchased the acid and other materials from Menards. "The Menards store security team members worked very hard with me and I greatly appreciated that. They were great," Knepper said.
As part of building the criminal environmental damage case, Knepper worked cooperatively with the Eau Claire Police Department, Eau Claire District Attorney's Office, and the Wis. Department of Justice to obtain subpoenas for credit card and other financial records to confirm Hagen's purchases both at the store and online, and confirmed gold sales to an Eau Claire jewelry store.
Once Knepper had that evidence in place, he again worked cooperatively with the Eau Claire Police Department to conduct a search warrant at Hagen's residence in Lake Hallie, Wis.
And Knepper was about ready to have a long chat with Hagen himself.
The thief: A young father with a brain
Knepper and Hagen talked about three hours about the gold-refining operation.  Hagen said he saw the opportunity to make money. So he went online to learn the process and order the materials.
Hagen is young – now 24 – and smart. He is married and a father of twin daughters, who were about 2 years old when the criminal activity was under way two to three years ago.
Hagen said during the interrogation he had stolen the gold pieces from his employer – Hutchinson Technology, Inc. "He would take a few every day when he left," Knepper said. "He'd put a few gold components in his pocket, a few in his stocking hat – or even just a handful in his front pockets. Just a bit every day from his assembly line work at Hutchinson."
When Knepper had the legal authority to search Hagen's home, he was amazed by the site. "Hagen had 81 pounds of plated stainless steel stuffed into the kitchen cabinets, drawers, the food pantry, and in closets."
Estimate of its worth? At least $155,000 when considering the gold he could have removed from those plates.
These were pieces waiting to be put through the chemical process to extract the gold. Hagen figured out the process by educating himself through trial and error. He figured out a nine-step process using the dangerous acids to pull pure gold from the stainless plated pieces.
The evidence Knepper compiled also showed Hagen cashed $36,000 worth of checks from the Williams Diamond Center. The checks were for gold he extracted and sold to the diamond center. Hagen also received $8,000 worth of silver bars as payment from the diamond center.
"This was some high quality stuff." Knepper said of the gold Hagen extracted. "The evidence showed Hagen told the retail store the gold was from materials he had permission to remove from his employer."
Hutchinson officials told authorities employees are not allowed to take the company's materials as Hagen had done.  Hagen was ultimately let go by Hutchinson.
So why did Hagen do it? Money.
"He did it for a better quality of life. He was able to afford a better apartment and a newer vehicle," Knepper said. "He had an idea and he figured out how to do it.
"He is a smart kid. He showed initiative, but ultimately he put unsuspecting users of our public lands at great danger," Knepper said.
Plus, the site clean-up alone cost about $5,000.
Public lands not dumping zones
"The people of Wisconsin deserve to recreate on our public lands without the fear of illegal drug operations or anything thing else that could harm them," Knepper said. "Wardens take pride in catching those people that use public lands for dumping grounds of things they don't care to deal with, don't want to pay to get rid of, or wouldn't want in their own back yard."
Hagen contended he was ultimately going to remove the chemicals from the forest, but Knepper said it was impossible to determine how long the material had been there when the hunter found it.
Knepper also determined Hagen had stored what he thought were "spent or neutral" acids in his garage at his home where his family and toddlers lived.  The problem was the acid was still hot, not spent, and extremely dangerous.
"That was the scary thought – that he had a lot of this acid at his house which could have caused serious injury to his toddlers or anyone," Knepper said. "Hagen had a couple of burn marks on his skin and said the acid went through a couple pairs of his jeans."
The gold reclamation case came together thanks to partnership – from the anonymous tip from the hunter, to retailers, and investigators from multiple agencies working together. Partners who worked with Knepper included: Eau Claire Police, Eau Claire County District Attorney's Office, Menards, Dept of Justice – Division of Criminal Investigation, Wisconsin State Laboratory of Hygiene, and Hutchinson Technology.
"The good part of this case is the ability for the multiple partners to work together so successfully to solve the crime," Knepper said. "The sad part of this case would be that this intelligent young man should have put all that initiative to use doing something else – that's legal."