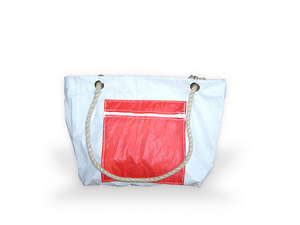 Sea Bags (www.seabags.com), the Maine based designers and manufacturers of hand-made items from reclaimed and recycled sails, is debuting the slender and bright Summer Satchel.
Available for only $99, Sea Bags Summer Satchel blends the rich personality of recycled sailcloth with a traditional and stylish silhouette.
The Summer Satchel is 18 inches wide, 14 inches tall and 3 inches across, providing enough room for a full harvest from the local farmer's market.
At nearly the same size as Sea Bags original large "tote" design, the Summer Satchel stands apart by using a single sail layer – as opposed to double-panel construction – adding both flexibility and affordability.
Easily moving between the beach, farmers market or casual night out on the town, the Summer Satchel feature a distinctive color "pop," which is achieved through the use of reclaimed, rare Dacron sails. For 2012, the Summer Satchel will be available in tangerine, lemon, pink or teal.
The colorful Dacron panels also serve as an oversized zippered pocket on the front of the bag, big enough to carry all the valuables needed for a day trip or a night out. Along with the inside hanging zipper pocket all your valuables will stay right where you put them.
Knotted hemp rope handles, anchored with grommets, are smooth and comfortable from day one. The loop is large enough to slip over the shoulder, and light enough to hold on your arm.
Sea Bags Summer Satchels are available online at seabags.com, or at their flagship stores in Portland and Freeport, Maine.