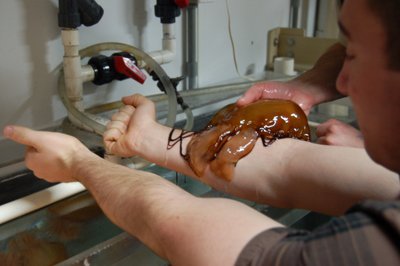 One major reason why Ocean Care Solutions marine sting products have become so necessary is because, quite simply, more people are recreating by and swimming in the oceans up and down the East Coast, West Coast and Gulf Coast regions while, at the same time, a substantial number of stinging creatures are swimming or being blown towards shore, creating an impact zone that rings the North American continent. While the majority of beach and ocean goers don't get stung most of the time, those that do have an unfortunate run in with a marine stinger never forget the experience. And because the sport of open water swimming is exploding like no other, these encounters are growing year by year.
In 1999, there were 220 sanctioned open water swimming races. After with the inclusion of marathon swimming in the 2008 Beijing Olympic Games, the sport took off in unimaginable scope. According to Open Water Source (http://www.openwaterswimming.com), there are now over 6,500 open water swimming events in 158 countries around the world – and the sport continues to grow at a pace greater than one new event per day.
"With the Olympic 10 km marathon swim to be broadcast from in Hyde Park at the 2012 London Olympics, the number of open water events and athletes is poised to multiply like the global jellyfish proliferation our oceans are currently experiencing," predicated Steven Munatones, director-in-Chief of the Daily News of Open Water Swimming (http://www.dailynewsofopenwaterswimming.com). "With more exposure of the sport and its heroes, more events get started. With more events available, more individuals challenge themselves to venture beyond the shorelines. When more individuals participate in open water competitions, there is an increase in traditional and new media exposure of the sport. The cycle feeds upon itself, enabling the sport to grow at unprecedented levels."
The sport offers amateur swims, professional races, solo challenges, charity events, relays and extreme swims of all sorts in oceans, lakes, seas, rivers, bays, estuaries, channels, canals and fjords. Everywhere marine life exists, humans are seemingly challenging themselves. "You have newcomers to the sport and then you have guys like John Muenzer," explains Munatones. "John was a former college swimmer who took on the traditional responsibilities of work and family after his student-athlete days were over. But then he got the bug and started swimming again. Not only did he join a masters swim club, but he also somehow balanced work and a family of seven while swimming the English Channel, setting a solo marathon record in Lake Erie, and is now thinking about swimming to the Farallon Islands, west of the Golden Gate Bridge."
"And that is the beauty of the sport. The world is so unexplored when it comes to humans swimming in open bodies of water. People can challenge themselves, plan their own adventure and set all kinds of records by swimming unprecedented distances in lakes, river, channels and oceans around the world – or even in their local area. This excitement – to do a swim that has never been done before in the history of mankind even in your own state – is pretty thrilling for the average swimmer in the 21st century. We want to recognize their achievements and encourage them to train and complete their swim safely."
Which is where Ocean Care Solutions comes into play. While sharks and cold water are usually the first obstacles that come to mind when swimming in the ocean, it is the unseen and much smaller jellyfish and Portuguese Man o War that often present disguised barriers to success.
"I agree 100%," says John Muenzer. "Sure, you always think about sharks and Jaws comes to mind. But it is the little jellyfish that really hurt. You get zapped by those and you just can't stop thinking about the sting. The pain can be unbearable. They just come up on you when you least expect it. Their venom is a show-stopper which is why products like Ocean Care Solutions is so timely when so many people are swimming in the oceans now."
"Our jellyfish sting solution and marine sting first aid kits, like the Man o War kit, are specifically designed, using the latest medical and scientific research, to provide on the spot, first aid pain relief," explains Kevin Freeman, CEO of Ocean Care Solutions. "We are very excited about our products and our partnership with the Open Water Swimming Community in providing effective first aid to world class athletes." "We began with the simple idea of providing effective marine sting first aid products for the family trip to the beach so we are very pleased to know our products have raised so much interest with international swimmers," Freeman continued.
Ocean Care Solution products are safe to use and come complete with step by step instructions and all the medically supported components necessary to provide immediate first aid for a variety of marine sting injuries. Light weight, durable, OCS signature gold foil pouch can go any where there is an ocean activity.
photo: Ocean Care Solutions