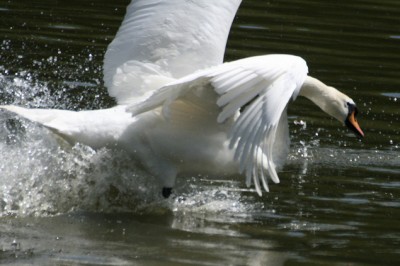 A Villa Park, Illinois man died while at work on a pond Saturday, April 14th when he rolled off his kayak into the water and accidentally drowned after a swan swam at him.
Anthony Hensley, 37 years old, married and a father of two, worked for a company that used swans and dogs to keep geese away from properties. The swan that harassed Hensley was put there by his company. He was checking the swans near the Bay Colony condominiums in Des Plaines when it is believed that he got too close to the swan or its nesting area and so the swan began to swim after him.
After he capsized, witnesses say the swan continued to swim after him as he tried to make it to shore. He apparently came up to the surface a few times before he went under again and eventually did not resurface. He was pulled from the water after rescuers searched for him for 45 minutes.
He was taken to Lutheran General Hospital where he died. An autopsy on Sunday ruled his death to be from accidental drowning.
His family said he liked working with animals, but they don't understand why he didn't fight back when the swan attacked him. In an interview with the Sun Times, Hensley's father-in-law George Koutsogiannis speculated that it might be because he didn't want to hurt the animal.
Photo: Pete (comedy_nose, flickr)