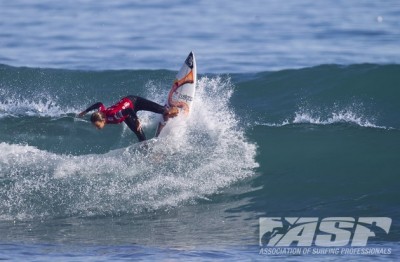 The TSB Bank NZ Surf Festival featuring the Dow AgroSciences Pro, stop No. 3 of 7 on the 2012 ASP Women's World Championship Tour, is just days away from kickoff and the globe's finest female surfers have flocked from Australia to Taranaki, New Zealand to continue their respective ASP World Title campaigns.
Sally Fitzgibbons (AUS), 21, defending TSB Bank NZ Surf Festival champion, is fresh off of a major victory at the Rip Curl Pro Bells Beach and is hoping to contribute a mirror performance from 2011 by taking back-to-back titles in New Zealand as well.
"It's all sinking in and we're off to New Zealand today," Fitzgibbons said. "It's great to have some momentum heading into that event again. I went back-to-back at Bells and I'm hoping the magic will stay with me in New Zealand this week."
Fitzgibbons, who is currently rated second on the ASP Women's World Championship Tour, is excited to enjoy the natural wonders that New Zealand has to offer while hunting down her maiden ASP World Title.
"I love New Zealand," Fitzgibbons said. "Taranaki is especially beautiful. The waves, the mountains, the people – it's a special place."
While the young Australian is carrying the momentum from her victory at Bells Beach, Fitzgibbons knows the road to the Final at the TSB Bank NZ Surf Festival will be no easy task.
"There are no easy heats at this level of competition and everyone is a threat," Fitzgibbons said. "All you can do is be as prepared as possible and surf to your strengths."
The TSB Bank NZ Surf Festival featuring the Dow AgroSciences Pro holds a waiting period from April 11 through 15 and will be webcast LIVE via http://nzsurffestival.co.nz/