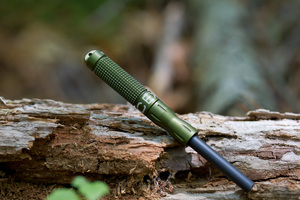 Exotac, designers of extraordinary, high-quality outdoor and urban gear, is proud to announce a new partnership with wholesale distributor, Liberty Mountain, who will begin distributing Exotac outdoor products this spring.
Known for always having products in stock and outstanding customer service, Liberty Mountain will showcase Exotac's premier product collection in the company's legendary 650+ page catalog of "Everything Outdoors" as well as on its expansive web site.
"We're very excited to team up with Liberty Mountain and to help serve their impressive customer base of leading outdoor retailers," said Rob Falkenhayn of Exotac. "Liberty Mountain has established a strong following of diverse and loyal customers and we're confident this partnership will improve our distribution and availability in these unique market conditions."
The Exotac lineup will begin appearing in Liberty Mountain's 2012 catalog this April and will feature Exotac's newest XL Collection, driven by the elegant and utilitarian nanoSTRIKER XL.
Recognized for innovation and utility, Exotac products have been featured in the Wall Street Journal, Wired, Outside, Men's Journal and many others.