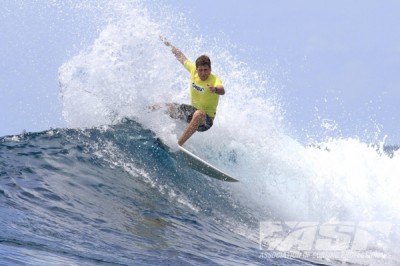 Wade Carmichael (AUS) has taken out the ASP Australasia 5-Star rated Rangiroa Pro Junior over Soli Bailey in a hotly contested Final. The surfers had to compete in 3 foot (1.5 meter) tricky surf at Rangiroa, French Polynesia today with punchy walls and ramps for aerials on offer.
Wade Carmichael (AUS) not only won the event today, but he also took the lead on the ASP Australasian Pro Junior Series. This is Carmichael's second win of year, and he's confirmed his spot on the 2012 ASP World Junior Tour.
"I'm frothing right now!" Carmichael said. "I'm so happy! I've been behind Cooper (Chapman) on the ratings all year, so it feels amazing to move into the number one spot. I've had a great time here in Rangiroa, the waves have been amazing. The wind came up strong during the Final, but I was still able to find a couple of good ones and get some scores. I've been trying to qualify for the ASP World Junior Tour for the past three years, so I'm so happy to have finally made it."
Soli Bailey (AUS) was a standout performer all event, launching massive aerials and stylish carves, but was unable to match Carmichael's powerful hacks in today's Final.
"I'm really stoked with second place," Bailey said. "This is the best result I've ever had in a Pro Junior. This will push me up the ratings a bit too, so I'm stoked with that. I'm happy for Wade (Carmichael), he's moved into number one on the ratings and he's been surfing great. I was so happy to be in the Final with him. I'm bummed to not win, but I've got more confidence now heading into future events."
Keoni Yan (PYF) was the highest placed Tahitian surfer, finishing equal 3rd place after losing to Soli Bailey in Semifinal 1. Yan impressed the judges all event with ability to link powerful and progressive moves together on his waves.
"I finished in the Quarterfinals last year," Yan said. "So to make the Semifinals of a 5-Star is great for me. Soli (Bailey) is such a great surfer he was able to pick all of the best waves. I went out and tried my best. I look forward to competing here again next year, hopefully I can improve again and make it into the Final."
More info http://www.prosurfinglive.com/live/asp/tahiti/