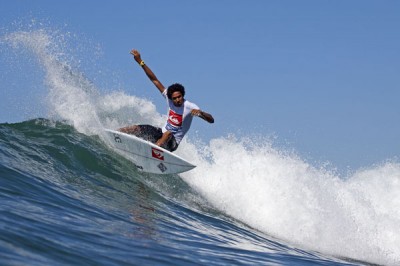 Over eighty of South Africa's best junior surfers under the age of twenty will be making their way to Durban this Easter to compete in the Quiksilver Pro Junior. The Quiksilver event is one of the biggest on the Association of Surfing Professionals (ASP) calendars and all top juniors will be hoping to impress to secure their share of prizes and valuable points on offer.
Top favourites in the ASP Pro Junior division include reigning champion Beyrick de Vries of Umhlanga Rocks, seventeen year old Slade Prestwich of Durban (Berea), David van Zyl of Durban (Umhlanga) and Kommetjie's Michael February. Good friends De Vries and Prestwich closed out the 2011 edition of the event with a man-on-man final showdown and will be hoping to do the same this weekend. Other surfers to watch out for include Kommetjie's David Brand and Jeffrey's Bay local Steven Sawyer, both are goofy footers and are capable of high scoring potential and big results.
"We've received a large amount of entries this year so it's going to be a great event, at the moment the sandbanks at New Pier are good and the tides look to be favourable which is very positive. The juniors are always fired up to surf this event as it's a great stepping stone to kick start their year," said Dane Patterson of Quiksilver Marketing.
Autumn land breezes have already started blowing and at the moment surf forecasting websites are showing an average of two metre swells for the duration of the event which should produce some very contestable surf conditions for the young surfers. The event boasts over R65 000 in prize money and can be followed at www.quikprojunior.co.za
The event will get underway at 8:00am on Friday morning at New Pier in Durban with the Future Stars divisions, eight surfers from Surfing South Africa's transformation program will take part in the event giving them an opportunity to raise their level of surfing and compete against the best in the country. Following that, Pro Junior surfers and King of the Groms divisions will take to the water. Finals for all divisions will be held on Sunday afternoon with the awards ceremony directly thereafter.
The Quiksilver Pro Junior & King of the Groms is presented by the City of Durban and supporting sponsors include Independent On Saturday, Skullcandy and Nestle Pure Life Water. The event is sanctioned by ASP and Surfing South Africa; surfers will be kept powered by Red Bull.