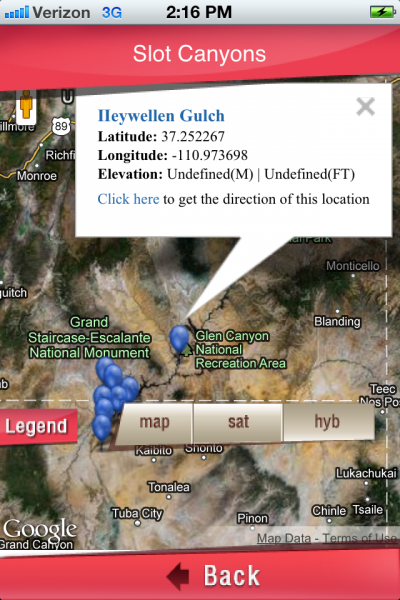 There is so much in the outdoors to explore, so much that you can find that leads to adventures, challenges, or picture perfect spots. One of the many features that can provide all of these things for you is rock features. Rock features such as canyons, slot canyons, cliffs, arches, and buttes. All which contain there own beauty and adventure.
Bridgewater LLC Outdoor Apps is happy to release an Iphone app called Canyoneering Explorer, which helps give you the outdoorsmen a chance to find these features and go enjoy them. Canyoneering Explorer App gives you the option to use your current location using your Iphone GPS to find features of your choose (slot canyons, canyons, cliffs, buttes, and arches) within a certain mileage range, given you the opportunity to pick and choose where you want to go, how long you want to travel, and if there is even anything worth your while in the area. The second option lets you choose a state then select the county of the state you want to check out. Then pick which feature you would like to see or pick all features given you an array of information and features to explore. Whatever option you choose the map will then show you the details of the features by clicking on the color coded bubble, such details as Names, Longitude and Latitude, Elevation of each. Once you have established what feature you want to go explore be sure to click the directions button and receive a shown path to the feature as well as an estimated time of travel.
Canyoneering Explorer was created in hopes to help people discover more within the outdoors. Help the adventurists find new features, new hobbies, and new favorite spots. Canyoneering explorer gives you the opportunity to find a slot canyon, canyon, cliff, arch, or butte. Get outside and start exploring.