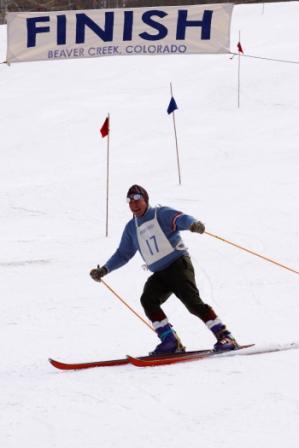 A celebration of ski history, racing and tradition returns to Beaver Creek on Saturday, April 7th with the third annual Vintage Ski Fest. The event is a throwback to the early days of skiing and ski racing. Put on your woolies and knickers, dust off the wood skis and leather boots and put your vintage technique to the test in the slalom race or the classic bumps competition.
Vintage Ski World will be on site to provide vintage rental gear and outfits and participants will be eligible for costume prizes.  Reserve your vintage gear by calling 800-332-6323 or visit www.vintageskiworld.com. Live music from "Those Austrian guys" will entertain competitors and spectators.
Registration is $20 per person and proceeds from the event will benefit Can Do Multiple Sclerosis, a national non-profit organization and leading provider of lifestyle empowerment programs for people with MS and their support partners. Can Do Multiple Sclerosis also will be selling $5 raffle tickets for great prizes. Registration is available online at www.beavercreek.com/vintageskifest. Registered participants will receive complimentary food and drink vouchers as well as a commemorative Vintage SkiFest pin.
 Vintage SkiFest Schedule
9:00 a.m. – 3:00 p.m. Vintage Vendors Fair
Browse, rent or buy original, replica and retro-styled gear, furnishings, artwork and clothing.
12:00 p.m.  Slalom Race
This classic slalom event will be timed and participants may enter the wooden or straight skis category. All skis will be inspected by the Chief of Course prior to the race. A youth category is being offered for children 13 and younger and they may race on either wooden or metal skis.
1:00 p.m. Classic Bumps Competition
Honoring the history of freestyle, a panel of judges will judge skiers on style and form. Participants must use straight skis which will be inspected prior to the start.
1:30 p.m. – 3:30 p.m. Awards and Après Party

For more information and complete details about Beaver Creek's Vintage Ski Fest visit www.beavercreek.com/vintageskifest.
photo: Cody Dowanrd, Beaver Creek Resort