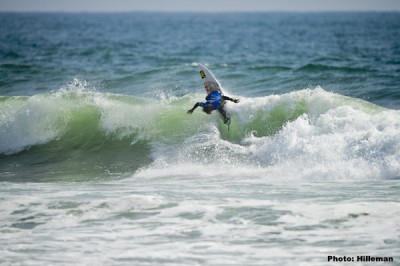 The Association of Surfing Professionals (ASP) 4-Star Vans Pier Classic and Vans Pro Junior presented by Jack's Surfboards and hydrated by Vitaminwater returned to Huntington Beach Pier for the second consecutive day and saw surfers take on an increasing three-to-five foot waves and tricky afternoon winds to complete Round 3 of men's competition and the opening heats of Vans Pro Junior action.
Ian Gouveia (BRA), 19, led the international charge, posting the event's first perfect 10-point ride in Vans Pro Junior competition compliments of a series of flawless backhand turns on a long right-hander. In addition to the immaculate score, Gouveia earned the event's highest heat-total as well, 16.43 out of 20.
"It's the first perfect 10 of my life," Gouveia said. "I got so lucky. I'm so stoked. I caught the wave and I didn't know it was going to be that good. I just started doing maneuvers and it was a clean wall and it let me do a lot of turns and finish it. I've only surfed Huntington a few times, so I'm stoked."
Gouveia, who is the son of former professional surfer Fabio, has been building his profile via performances on the elite ASP World Junior Tour and is looking to further his international experience at the Vans Pier Classic and Vans Pro Junior.
"This event is really good for my experience and I'm trying to surf as many heats as possible," Gouveia said. "It's a good event for me to get some points for my World Ranking too."
Brendon Gibbons (Cape Town, ZAF), 20, looked at home in the challenging conditions on offer at Huntington Beach, earning the highest single-wave score of men's competition, 8.83, out of 10, with a committed air reverse and a powerful layback on a closeout section while taking a heat total of 15.50 out of 20. While several newcomers can sometimes struggle in navigating the Huntington lineup, Gibbons' relaxed approach contributed to his success.
"The wave here feels really similar to my local break at home," Gibbens said. "I'm definitely familiar with conditions like this and I wasn't nervous at all. I just went out there and had fun, really. This is the first event I've ever surfed here. I've been here a few times now, but just to get familiar with the place, never to surf an event."
The South African is utilizing the Vans Pier Classic to kick-start his 2012 campaign on the men's ASP World Tour and is hoping to gain some valuable points while enjoying California.
"These events are a great way to pick up points and that's exactly why I'm here," Gibbens said. "I haven't done any events yet this year and what better place to come to than California? I love it here, it's good fun."
Krystian Kymerson (BRA), 19, took out his opening heat with committed airs and powerful rail-wraps while notching one of the day's highest heat totals of 14.50 and hopes he can carry the momentum through to his Round of 64 heat.
"That was a good heat for me and I'm so happy to start my contest off with a heat win," Kymerson said. "The waves were really good and hopefully I can do it again in my heat tomorrow."
Conner Coffin (Santa Barbara, CA), 18, commuted straight from the airport to Huntington Beach this morning after a trip to New Zealand and survived the Round of 96 while battling the wind-blown afternoon conditions. Coffin was in need of a small score in the dying seconds of his bout to advance, and found a solid midrange ride to snatch an opening heat win.
"I flew all the way home from New Zealand and just got in this morning so I would have been bummed to lose first heat," Coffin said. "I was just dragging my arms back out and I thought I needed one more wave. I thought I lost, but that last one kind of walled up. It was really tricky in that heat because the waves were super soft. There's a huge rip and the wind's good for the rights and there's full swell, so I think if the rip wasn't there it'd be really good."
Coffin, who took out his maiden ASP victory last month at the Pipeline Pro Junior, is relieved to have won his first major contest but is focused on the task at hand at this year's Vans Pier Classic and Vans Pro Junior.
"Having that win definitely gets a lot of the stress off of my back," Coffin said. "It's funny though, you can come off of a win and pretty much be losing in the next event. That's how surfing is. You can come out and not get a single wave if the conditions are tricky, but I'm psyched to have the win moving forward."
Tomorrow's scheduling is set to see the completion of the Round of 64 in both the Vans Pier Classic and Vans Pro Junior competition.
Surfline, official forecasters for the Vans Pier Classic, are calling for the current west northwest swell to decline tomorrow, with a building south southwest swell to fill in throughout the day, providing surf in the three-to-six foot range.
Vans Pier Classic and Vans Pro Junior presented by Jack's Surfboards and hydrated by Vitaminwater competition will recommence tomorrow morning at 8am local time and will be webcast LIVE in HD via www.vans.com/pierclassic.