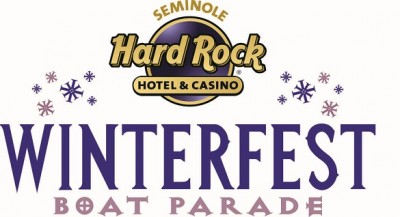 Fort Lauderdale Broward County, FL— The Seminole Hard Rock Winterfest® Boat Parade, which annually attracts over 1 million parade spectators and is televised nationally, has commissioned celebrated marine wildlife artist and conservationist Guy Harvey to create a 40th Ruby Anniversary limited edition print.
Admired for his unique background as a marine biologist and world renowned artist, Harvey's work comes as the result of deep appreciation and understanding of the subjects he paints.  He is most widely recognized for his realistic depiction of marine sport fish in their natural settings, with mediums including watercolor, oil and acrylic.  In addition to his original paintings, Harvey's images are regularly featured as wall murals and in apparel lines popular with sport fishermen and conservationists.  Harvey also was honored this year as the featured artist of the Coconut Grove Art Festival and created the festival's official print.
The 40th Ruby Anniversary Winterfest® Parade design will make its official debut at the Winterfest White Party, an invitation only event, to be held October 28th at the Harbor Beach Marriott, hosted by Gray Robinson, PA and presented by Smucker's®.  The  Winterfest White Party will culminate with Fort Lauderdale Mayor Jack Seiler honoring Guy Harvey with a key to the city.
The 40th Ruby Anniversary Guy Harvey design will be available to the public as limited edition commemorative prints and T-Shirts.
As a signature closing event for the City of Fort Lauderdale's Centennial Celebration, this year's Parade is set to sail on Saturday, December 10, 2011 starting at 6:30pm from downtown Fort Lauderdale. In honor of a new category, to commemorate the city's 100th birthday, Winterfest is calling all vintage boats to enter the parade, in a new category. Last year, parade viewers were given a taste of history with America, a 1965 Trumpy Motoryacht and Charm, a 1983 Pilgrim Trawler. This nighttime flotilla gained strength in 1971because of the vision of about 20 enthusiastic boaters.
"We encourage all entries to show where their hearts are during the holiday season," said Lisa Scott-Founds, Winterfest President/CEO, "by encouraging corporate partners and private boat-owners to team-up with local charities to create floats that really float."
Charities such as Shake a Leg Miami, Wounded Warriors Program, The Clydey Foundation, Florida Ocean Sciences Institute of Fort Lauderdale, Habit for Humanity, Share a Pet, The Healthy Little Heads Foundation, American Red Cross, Children Diagnostic and Treatment Center, Epilepsy Foundation of Broward County, James Jr. Fund, Lisa Boccard Breast Cancer Fund, Hospice by the Sea, Noah's Ark, Child Net and Kids in Distress are some of the notable charities that have participated in the past.
For more information on how to be part of the Winterfest® 40th Ruby Anniversary Celebration, call 954-767-0686, or visit www.winterfestparade.com.
Guy Harvey
Guy Harvey is a marine wildlife artist and conservationist. His depictions of marine life, especially of sportfish such as marlin, are very popular with sport fishermen and have been reproduced in prints, posters, t-shirts, jewelry, clothing, and other consumer items. Harvey is also a very vocal and active advocate for marine conservation, having established the Guy Harvey Research Institute (GHRI) at Nova Southeastern University of Fort Lauderdale, Florida as well as the Guy Harvey Ocean Foundation, an organization that funds scientific research and educational initiatives.
Seminole Hard Rock Hotel and Casino
Seminole Hard Rock Hotel & Casino, South Florida's leading entertainment destination, featuring 50 live action poker tables and 2,100 of the most popular gaming machines on the casino floor. Millions of guests have visited the resort. For the second year in a row, the American Automobile Association (AAA) renewed its prestigious Four Diamond rating to this 500-room hotel offering 17 restaurants and lounges, a 16,000 sq. ft. grand ballroom, a full-service, European-style spa and a  complex of 22 retail shops and 11 nightclubs in Seminole Paradise. The Seminole Hard Rock Hotel & Casino is located on State Road 7 (U.S. 441) exit Stirling and travel west