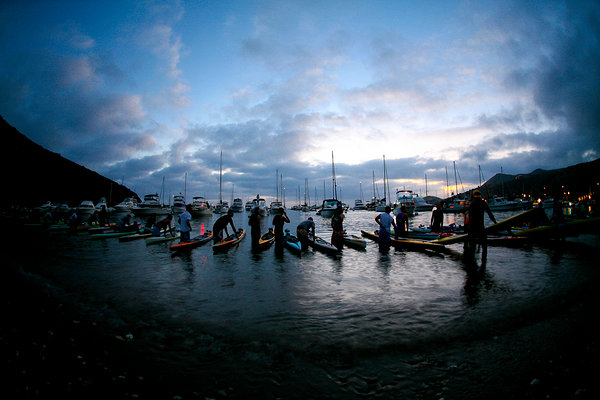 Redondo Beach, CA – August 24, 2011 – The 32 mile Catalina Classic Paddleboard Marathon Race presented by Body Glove is bursting with talent from all over the world, ready to fight it out for the most coveted title in the sport of paddleboarding.
The race on Sunday August 28, 2011 boasts 90 entrants with competitors flying in from France, Australia, the Pacific Northwest, Hawaii and the East Coast. The race is wide open this year with Joe Bark being the only returning champion, many have come close but none have won the title in the past. Some of the top contenders this year in the Unlimited division are: US Champ Brad Thomas, 2010 runner up Brian Rockeleau of Hawaii, 2010 3rd place finisher Anthony Vela, San Diego's George Plesek, and Australian legend Mick Porra making his first appearance in the race. The race is just as close in the Stock division. Keep an eye on two time and current 2011 Molokai 2 Oahu record holder Eric Abbott, perennial contender Jay Scheckman of San Diego and first time paddler and 2011 Rock 2 Rock champ Jack Bark who is hoping to follow in his father's huge footsteps.
"We're expecting great conditions," said Kyle Daniels, former champion and race director, "with a potentially large Southern Hemi heading our way, rising water temps and recent sightings of both Blue Whales off Point Vicente in Palos Verdes, Mako Shark off Santa Monica and the ever present tanker ships. It should be fun!"
In a first for The Catalina Classic, two father-son duos are hitting the water. Follow Austin and Dan Bates and Jack and Joe Bark as they make the harrowing channel crossing.
In addition to cheering on your favorite stock and unlimited division racers, come down and show support for an honorary relay team competing to raise money for the Jimmy Miller Memorial Foundation Wounded Warriors Ocean Therapy Program. The team is made up of wounded Marines from the Afghan and Iraq wars along with Catalina Classic veterans and JMMF volunteers Kyle Daniels, Chris Brown, Ron Roebuck, Karhtyn Tubbs, Gene Boyer and more. There are also groups of paddlers raising money and awareness for the Ocean of Hope/Sarcoma Alliance and for ALS.
The grueling 32-mile marathon begins at 6 a.m. on August 28th on the Isthmus of Catalina Island. The lead boat, The Disappearance captained by Body Glove co-founder Bob Meistrell, will escort the paddlers. They are expected to finish around 11 a.m. at the Manhattan Beach Pier. Be sure to follow the race live on the Catalina Classic Twitter at http://twitter.com/CatalinaClassic and you can watch the finish line live on ustream.tv.
This year the Catalina Classic and Manhattan Beach Open Volleyball tournament fall on the same day for the first time since 1960. So come down and cheer on your favorite paddlers as they come up the beach and enjoy some professional beach volleyball. It will be an eventful summer day at the Manhattan Beach Pier.
Photo Credit: bkingston.com
About Catalina Classic Paddleboard Race
The Catalina Classic Paddleboard race was officially started in 1955 by Los Angeles County Lifeguard Bob Hogan. The first Catalina crossing was actually paddled in 1932 and was won by legendary waterman Tom Blake, beating out Pete Peterson and Wally Burton in just under 6 hours. The Catalina Classic paddleboard race starts at the Isthmus on Catalina Island and travels 32 miles across one the Pacific's deepest and busiest channels and finishes at the Historic Manhattan Beach Pier. The paddlers will paddle boards between 12 and 19 feet long, using only their hands to propel them through the water. Swells, currents, and winds conditions play into what is notoriously one of the most grueling endurance events in the world. Legendary watermen such as Ricky Grigg, Mike Bright, Tom Zahn, Gregg Noll, Bob Hogan, Kemp Aaberg, Mike Doyle, George Downing, Joe Quigg, Mikey Munoz, Mike Eaton, Buzzy Kerbox, and Laird Hamilton have helped make the Catalina Classic paddleboard race the premier and most historical paddleboard race in the world.