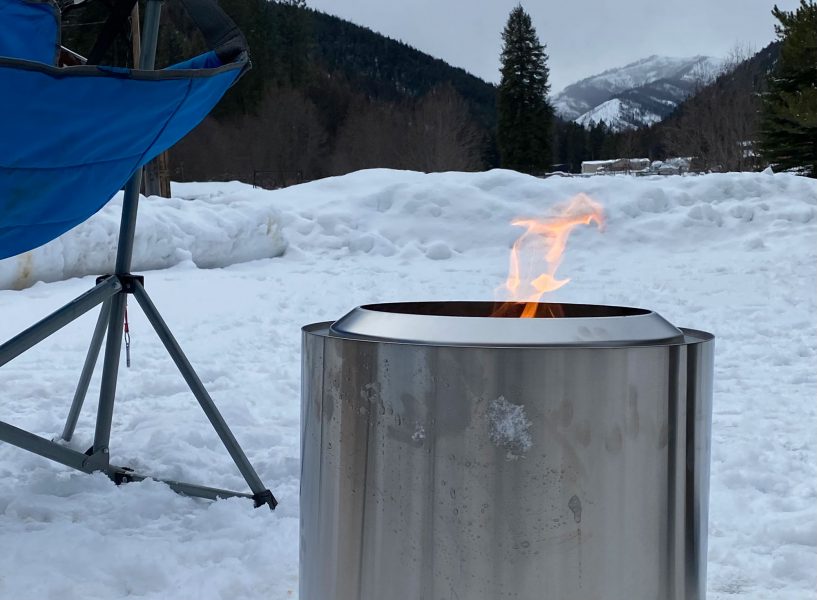 If you've ever sat outside around an open flame, you know the calming feeling that comes with the experience. And if you've ever roasted marshmallows for s'mores or cooked a hot dog on a stick over an open flame at camp, you know how easy it is to make a DIY outdoor snack or meal on the go.
For most campers, cooking over an open fire is a favorite pastime. And if you grew up camping as a child, you probably have a handful of childhood memories sitting around a campfire telling stories, singing songs, or having a quiet night with friends and family under the stars.
There are so many benefits to having a campfire. But you don't need to go camping to experience the feeling. With so many portable fire pit options out there, you can easily enjoy a campfire in your own backyard, on a trip to the beach, while you're tailgating or on an overnight car camping trip.
With a fire pit you can take on the go, the possibilities are endless.
Whatever your reason is for investing in a portable fire pit, there are a variety of options out there to choose from. Here are three things to consider when choosing a portable fire pit that's right for you:
Consider Your Fuel Source
Are you a fan of listening to the crackle of real wood in your campfire? Or do you prefer the easy one-step lighting of a flame to start your fire? That's something to consider.
The main fuel source options for portable fire pits are wood, coal, propane and pre-made (smaller) briquettes with a wax layer.
Wood
When using wood as your fuel source, consider availability. Do you have easy access to smaller "chopped" wood pieces you can burn in a portable fire pit?
Solo Stove makes a great wood-burning portable fire pit. The Solo Stove Ranger portable fire pit is a great choice if you have access to smaller wood pieces and you have the patience and know-how to start a fire slowly.
Coal
If you're a fan of burning coal or "charcoal" as your fuel source, there are some options out there for you like a budget friendly hexagon shaped wood or coal burning fire pit. This metal fire bowl has a mesh cover, poker and is deeper set — allowing for larger amounts of charcoal.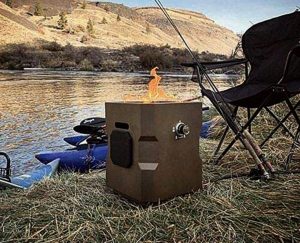 Propane
If you're looking for a clean low-maintenance option, propane is your best bet for a fuel source. The Ukiah Tailgater II portable fire pit is the best option on the market as far as propane fueled fire pits go. It's as easy as connecting your propane and pushing a button to get a beautiful instant flame. There's no mess, and the fire pit doubles as a wireless speaker with quality audio with an added "synchronize flame" feature that makes your flames dance to your beats.
Pre-made briquettes
For a smaller portable fire pit — like ones for making s'mores on your backyard deck — using a pre-made briquette is as easy as it gets. You simply use matches or a lighter and your briquette lights instantly. City Bonfire specializes in this type of fuel source and offers a variety of pre-made briquette mini portable fire pit options.
Consider Your Space
Since portable fire pits come in a variety of sizes, consider how much storage space you have. You also need to know how much space you have in your vehicle when transporting your fire pit.
For example, if you're camping out of your van or travel trailer with limited storage space for transporting a fire pit, you'll want to size down. But if you have a large truck, SUV, or roomy car, you could consider a larger portable fire pit.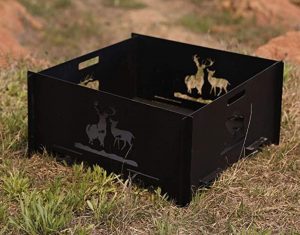 You could consider a foldable portable fire pit or a collapsible metal fire pit that both use wood as the fuel source. Or, a smaller Outland Living Firebowl that's more compact.
If you have a lot of space, you could even use a larger portable fire pit like the Solo Stove Bonfire fire pit.
Consider Your Budget
Think about what you'd like to invest into your portable fire pit. Are you looking for a long-term solution or for something to just get you by for a couple of years in your backyard or on a few adventures throughout the year.
Portable fire pits can range from about $20 to $600. On the low-end of under $20, you have your mini portable fire pit options like the City Bonfire. In the $200 to $300 range is your portable wood-burning fire pit like the Solo Stove Ranger. And at the top of the scale — coming in just shy of $600 — is the Ukiah Tailgater II portable fire pit options with all the bells and whistles like a built-in speaker, decorative lava rock and beautiful aesthetic.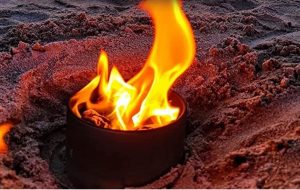 In my home state of Montana, my family uses both the Solo Stove Ranger wood-fueled option and the Ukiah Tailgater II propane-fueled option. For us, it makes sense to have both wood and propane fuel-burning options.
For days when we want a quick fire outside, the Ukiah is our go-to fire pit (and we love the speaker that comes with it for entertaining in our backyard). For days when we want to sit and enjoy the slow burn and crackle of wood while we're out camping, we break out the Solo Stove Ranger. Both are made to last for years to come and are high quality and worth the investment.
---
Suzanne Downing is an outdoor writer and photographer in Montana with an environmental science journalism background. Her work can be found in Outdoors Unlimited, Bugle Magazine, Missoulian, Byline Magazine, Communique, MTPR online, UM Native News, National Wildlife Federation campaigns and more.
---
We are committed to finding, researching, and recommending the best products. We earn commissions from purchases you make using the retail links in our product reviews. Learn more about how this works.