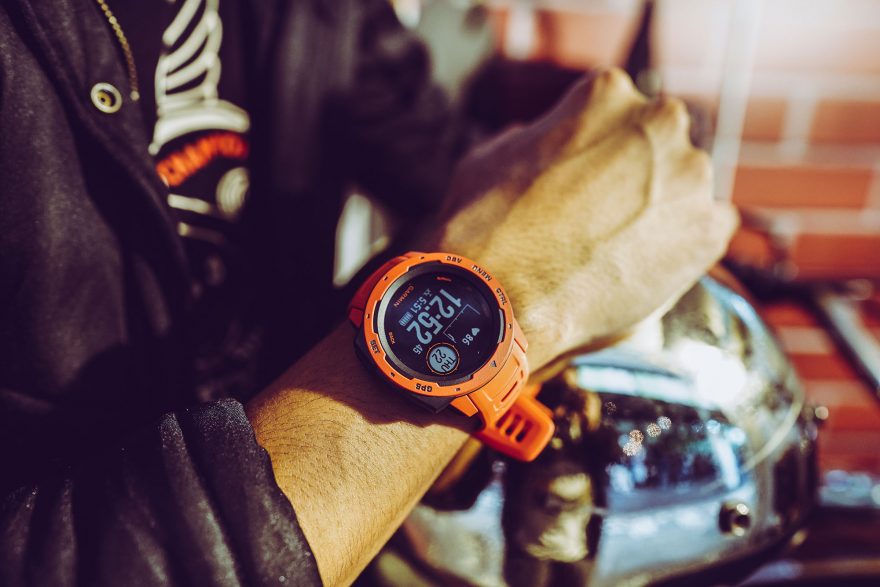 Watches today are unquestionably smarter than they were a generation ago. From the simplest FitBit to the highest-end Garmin, they regularly come equipped with Bluetooth connectivity, GPS sensors, activity tracking, and notification features. It's a world unlike people probably imagined 10 or 20 years ago. Yet, with so many options for GPS fitness watches and smartwatches, it's sometimes overwhelming to know what you're looking at.
And let's be clear: There are differences between "sport watches" and "smartwatches."
GPS fitness watches (or sport watches) are focused on activity metrics, and many of them are specialized for a particular activity, even if they do work for a broader range of sports. For example, the Coros Apex 2 Pro is geared toward ultrarunners with its durability and battery life; Garmin's Approach Series is made for golfers; while Suunto's D Series is a diver's best friend. These kinds of sport watches are great at tracking workout and activity trends, as well as longer-term health data (barometric altimeters and heart-rate sensors are common).
Smartwatches tend to be more "everyday" wear, and are centered around functionalities such as sending and receiving texts or social media notifications, or even making calls directly. They're more likely to have LTE capabilities, and because of all of this, they also have unquestionably worse battery life than most sport watches. When you hear about Apple's watchOS or Wear OS by Google, these align more with smartwatch-centric feature sets.
Of course, there have been efforts to balance the two approaches, with smartwatches adding more activity functions, and GPS fitness watches adding more smartwatch opportunities (in spring 2021, Garmin, for example, announced that its flagship running watch line, the Forerunner 900 series, was releasing an LTE model for the 945, but then in summer 2022 when the 955 came out, there was no LTE functionality on it). Despite that, Garmin does a better job than the other major sport watch brands (Coros, Suunto and Polar) at bringing smartwatch functionalities into the more sports-centric lines.
Yet this just puts into perspective the myriad of choices that are out there. Whether you are an elite athlete, avid hiker, marathon runner, kayaker or aiming to go from couch to 5k this year, the right GPS fitness watch can be helpful for tracking movement and health metrics, logging workouts, providing coaching and training loads, playing music or more.
So how do you go about selecting the best sport watch for your activities from the many available? A couple of us at ActionHub have recently purchased new watches, so we've been spending months weighing what we like and don't like (or don't need). We're not going to recommend what to buy, because everyone's tastes and needs are so different and nuanced, but hopefully we can get your mind churning to think about the kinds of things that are best for you.
Very generally speaking, here are what these four big brands are known for:
Garmin: By far the most full-featured sport watch brand out there — but also the priciest. Many of these watches can be found with vibrant screen displays, great GPS accuracy (especially with dual-band GPS), solid battery life, mapping functions, streaming music storage and playability, lots of customizable features and notifications, and the most complete array of wrist-based metrics available. Cons: Becoming almost moreso a lifestyle brand rather than a hard-core sport brand has led to some non-essential features being added to their mix; Google Maps app integration isn't suitable for many off-grid or trail activities; and aside from the top-tier lines, many of the watches are made of plastic and don't feature sapphire glass, negatively affecting both durability and style.
Coros: The newest kid on the block, this brand has become a darling of the ultra-running community. It's known for making solidly built watches and having top-of-the-line battery life — all packaged at very accessible price points. Coros' initial offerings were particularly stout with really good GPS, and while they've added features to older models and released new wearables, the company didn't generate the positive buzz that was anticipated with the Apex 2 and Apex 2 Pro in 2022. Still, Coros is doing well trying new things, including recent additions of multi-band GPS. Cons: Certainly fewer features than Garmin, but also implementation of music and mapping features on things like Vertix 2 has more limitations than one might expect (for example, you have to have music stored in mp3 form); and Coros almost never puts its watches on sale.
Suunto: A Finnish-designed and -manufactured brand that is more popular in Europe than in the U.S., Suunto has a long history in the watch market. The brand prides itself on build quality (usually metal casings and sapphire glass) and design in its watches, which raises the price point on many of their watches despite not having as many features as other brands. Recent Suuntos have been great with GPS accuracy on land despite none of the offerings having multi-band GPS, and their the turn-by-turn breadcrumb navigation stand out from the pack. Additional, no other brand features as many activity options for users to choose from (including things like "mermaiding"). Cons: No Suuntos have music or maps on them; screen display is consistently dimmer and more difficult to see than on competitor watches; firmware updates don't come frequently (though those that do have few bugs and get pushed to older watches); model selection is limited; and Suuntos outside of the Dive series don't tend to perform well while swimming.
Polar: Another Finnish brand, Polar made its bones through its heart-rate sensors, something that does translate better than any other brand from their chest straps to wrist-based wearables. Like Suunto, Polar puts most of its focus on European markets and has some limitations on resources, though recent offerings have done a stronger job of trying to target specific activity niches (like runners). Cons: Lacks many features that other watches have, including music and maps, but it makes up for them in heart-rate metrics and generally having a lower price point; watch design isn't as polished as Suunto's and can sometimes feel dated.
While that's the overview of some of the major brands (Wahoo, Amazfit and others are also out there), here are some of our overarching considerations for really narrowing down the sport watch that'll work for you:
Budget
For many people, the biggest limiting factor in choosing the perfect sport watch is going to be budget. Some basic watches start as low as $50, and the high end ones can easily climb to around $1,000, with a bevy features and benefits. 
One thing to remember is that price does not necessarily define the best smartwatch. Some of the more affordable options can provide similar features as the most expensive (on June 1, 2022, Garmin blew many people away by loading up its lower-end Forerunner 255 with many of the company's higher-end feature sets and capabilities). And some features may be more valuable to you than to someone else — like a touch screen, which is the go-to for some users who like that kind of thing but may be totally shunned by others. Or you may want a contactless payment program, a scratchproof sapphire screen, weather updates or advanced sleep monitoring.
The key is picking the features you know you want in a smartwatch — both in terms of hardware and firmware — and then finding one that fits within the budget you are comfortable spending.
Compatibility
The next thing to consider is combability or if it will work with your phone. For an obvious example, the Apple Watch and the Samsung Galaxy Watch have limited-to-no capabilities when not used with their respective phones.
Most smartwatches and fitness watches are compatible with multiple types of smartphones, but before purchasing, be sure to double-check. Some sport watches limit the availability of apps or certain features depending on your brand of phone.
Also, it's worth to check what accessories your wearable will work with, such as a foot pod or chest heart-rate monitor, and whether they require Bluetooth connectivity or Ant+. And some apps allow for only one such device to be connected at a time, which can be limiting if you're a runner and want both of the added devices to get the most accurate stride and HR metrics.
And don't forget music, if that's your jam. It's one thing for a watchmaker to say that one of their devices can control music from the watch, because that usually means you can only change songs, volume, etc., from your wrist but still have to have Spotify or Deezer operating on your phone. Other watches (namely, Garmin's higher end Forerunner and Fenix Series watches) actually store music on the watch itself, so you don't have to have your phone with you at all when wearing one of those.
If money is being invested in a sport watch you want to be able to utilize it to the highest potential. 
Purpose
This is a vague heading but a very important point.
The sport watch you want is going to depend on the purpose, goal and intention of the watch. For example, I love hiking, kayaking and lifting weights in the gym. I wanted a watch that was not only going to survive those activities but thrive in them. I also want a watch I can see, and a watch's case size can't be used as an indicator of its display size.
Below are a few common purposes for sport watches, along with popular watches within each category.
Running
Some sport watches are built for runners and offer precision GPS that allows tracking of pace, as well as heart-rate monitoring, coaching that can help you train without overloading, tracking recovery time, and aerobic and anaerobic training effect. Popular running watches with these features include the Garmin Forerunner Series (like the 955 and 255), most Coros watches (like the Apex 2 and Pace 2), the Suunto 9 Series (the Baro and Peak Pro) and Polar's Vantage line.
You can zero in on watches that feature things like intelligent battery modes, heart-rate monitoring, and navigation tracking (whether using topo maps or breadcrumb functions). Routes, on and off-trail, can often be preloaded to the watch with notifications if you veer too far off course. In some instances, you can view popular routes via heatmaps, so you never miss an adventure. Premium running watches will have barometric altimeters, which help the individual watchmaker's algorithm to best calculate elevation gain and loss while on an outing. 
Working Out
Most smartwatches and sport watches can track multiple sports, heart rate, steps, calories burned and more. Most are similar to a fitness tracker with a few additional features. The watch I use is a Garmin Vivoactive 4 because it has over 20 preloaded sports apps, downloadable workouts and workout animations (aka showing you how to do a certain exercise) on your wrist.
These types of watches tend to be very well-rounded, optimized for folks who don't settle for one specific type of activity. They've typically got some water resistance or waterproofing in them (at least from rain and sweat), and they may even estimate things like your body's energy level and stress levels.
Cycling
Many folks pair cycling with their other training activities, so a watch that can accurately function when you're on your bike is a must. That may mean having cycling vitals, such as battery life or heart-rate monitoring, or it may mean a watch that is able to transition seamlessly from an activity like a trail run to a cycling event without having to create a new activity (a key aspect that triathletes would go for). And while many people who are centered on cycling will have a bike-mounted GPS device, having a complementary sport watch is also a priority.
Be aware that while lower- to middle-end sport watches may have Bluetooth functionality, many cannot pair to a power meter for cycling.
Hiking
Sport watches that are built for outdoor enthusiasts are typically rugged, with long battery life. One such watch is the Garmin Fenix 7 Solar, which is among the crown jewels of Garmin's sport watches. This watch offers features such as topographical maps, heart rate, pulse ox monitoring and pace guidance based on the terrain. It is also solar powered allowing you to do multiple day hikes without the need to charge.
Like with running watches, features that can accurately track elevation and have options to extend battery life are often desirable.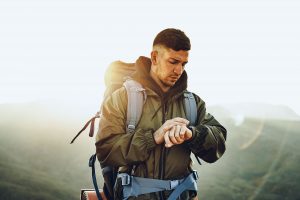 Battery Life
Speaking of the need to charge, battery life is commonly the biggest complaint about smartwatches — watches with numerous, constantly running features tend to have shorter battery lives, and some of these watches need to be charged every night. But improvements continue to be made. And sports-centric watches tend to be better, often able to go days without being charged (Coros and Sunnto had long been the big dogs when it comes to battery life, especially during activities, but Garmin has caught up nicely, especially with its solar options).
It is important to read reviews and information about battery life, while also considering how often you would like to charge your watch. Most watches charge fairly quickly now as well — for example, I charge mine once a week or so on my 30-minute commute to work. Some watches even bill themselves able to go from almost 0% to 100% in about an hour.
Water Resistance/Waterproof
If your adventure of choice involves water (and a lot of it), know the difference between waterproof and water-resistant. Water-resistant is the lowest level of protection, as water can still infiltrate into the watch. Waterproof features are better at blocking water from entering the watch.
Sport watches are rated for various levels of water, or ATM. The level of ATM will determine how deep a watch can go and how long it can stay submerged. A fan favorite in waterproof watches is Amazfit T-Rex Pro. This military-grade watch is crack and scratch-resistant and offers real-time data such as pace, average speed, SWOLF, and stroke rate.
---
Finding the best smartwatch for you and your adventure can be overwhelming. This guide is meant to highlight various components to keep in mind while deciding. Whether you are a new or experienced runner, swimmer, kayaker or adventurer, there is a smartwatch for you.
The biggest thing to remember that the best smartwatch is the one you actually wear. So get out there and start adventuring with your new accessory.
---
Updates: This article was originally published July 15, 2021, and was updated Nov. 17, 2022.
---
Michelle Bufkin Horton is a freelance communication specialist who enjoys a variety of outdoor activities including hiking, disc golf, kayaking. She shares those passions at @agandadventure on Facebook and Instagram.
We are committed to finding, researching, and recommending the best products. We earn commissions from some of the purchases you make using the links in our articles. Learn more about how this works.