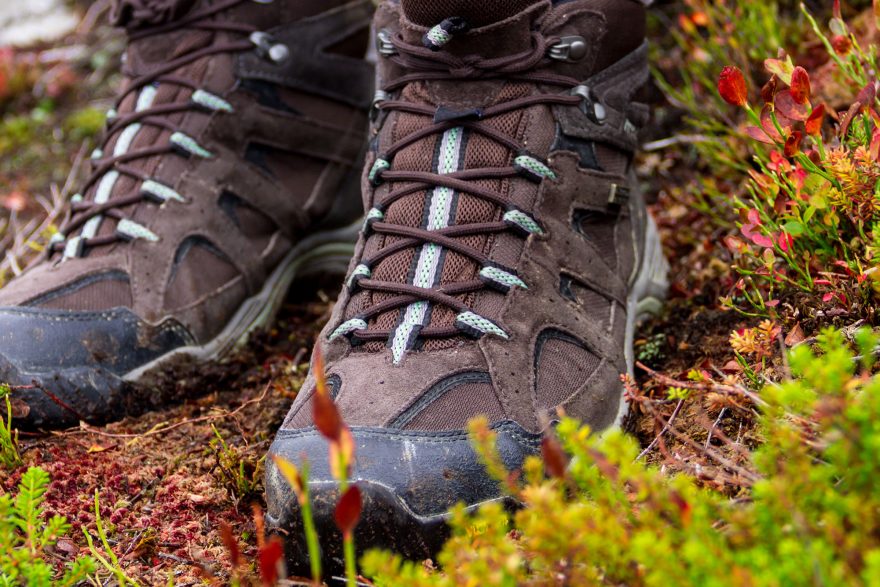 Here are 6 ways to tell if your hiking boots are getting worn out
---
If my favorite pair of Keen hiking boots could talk, they'd have lots of stories to tell — like the time they valiantly kept my feet dry while crossing the Kootenei Creek in Montana's Bitterroot Valley or when they heroically prevented my ankle from twisting when my foot was lodged between two boulders on the summit to Montana's Ch-paa-qn Peak.
You can probably also remember moments in your outdoor adventures when you were grateful to have quality hiking boots protecting your feet.
But as grateful as I was for those hiking boots, one day my relationship with them changed. The sturdy and trusty feeling felt off. I noticed water crept in while crossing creeks, and my slips on trails became more frequent. I started to think, "Are my hiking boots getting worn out?" In a way it felt good. I'd hiked and enjoyed the great outdoors to the point that my boots could no longer handle it.
Here are 6 ways to tell if your hiking boots are getting worn out (along with recommendations at the end of some great boots to buy next):
Keep track of your miles
Day Hiker Central recommends that you can get around 500 to 1,000 miles out of a good pair of hiking boots. If you hike on average 10 miles a week, five months out of the year, you can expect to replace your hiking boots every 2.5 to 5 years.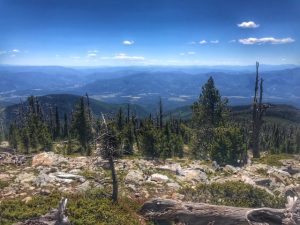 Check your midsole for cracks
The mid sole of your boot is the layer between the insole and outsole. Look for cracks or lines starting to show. If you see a lot of cracking, that's a major indication that it may be time to replace your boots or have them resoled.
Pay attention to your ankles
Make a mental note of how your ankle feels when you climb over rocks or hike down hills. Are your ankles slipping around in your boots? If yes, you may be unknowingly risking an ankle injury and your boots may be starting to fail.
Keep tabs on overall condition
Take time to notice physical changes to your boots. Are you missing an eyelet? A loose or missing eyelet prevents you from properly lacing up your boots and can cause you unwanted foot pain. Are there tears in the upper leather? These tears can easily spread and change your fit while also letting unwanted elements creep into your boots.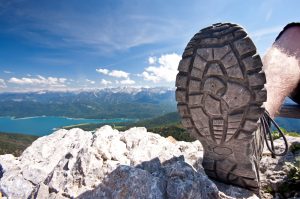 Check your tread
Check your boot before hiking. If you can no longer see the tread pattern or if there is a section on the tread that's bare, that's a big red flag. Once tread is gone, your boots are likely well on their way to being worn out.
Pay attention to your feet
One of the biggest signs that your boots are getting worn out is foot pain or foot discomfort. If your feet start hurting out on the trail, that's a significant sign that your boots are getting worn out.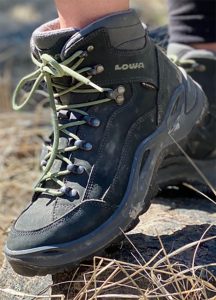 After realizing my favorite Keen boots (which I did love!) were getting worn out, I recently upgraded to a pair of Lowa Renegade GTX Mid Hiking Boots. I've only put about 25 miles on them, but I'm happy with them so far.
Other great options for women's boots include:
Let the new boot adventures begin!
Suzanne Downing is an outdoor writer and photographer in Montana with an environmental science journalism background. Her work can be found in Outdoors Unlimited, Bugle Magazine, Missoulian, Byline Magazine, Communique, MTPR online, UM Native News, National Wildlife Federation campaigns and more.
Feature image by Monstar Studio, Shutterstock; Ch-paa-qn Peak image by Suzanne Downing; tread image by Jenny Sturm, Shutterstock; Lowa boot image by Christy Cobbaert
We are committed to finding, researching, and recommending the best products. We earn commissions from purchases you make using the retail links in our product reviews. Learn more about how this works.