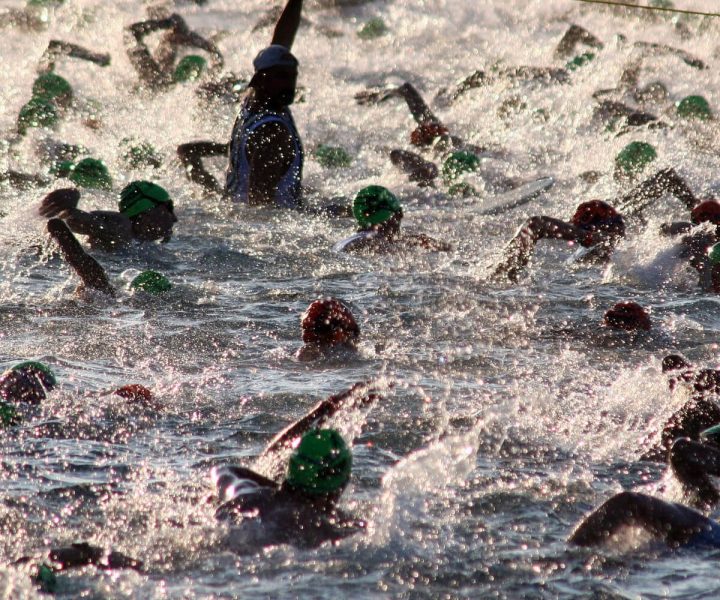 If you're like most people, the thought of trying open water swimming hasn't crossed your mind. After all, open water swimming has always been thought of as a niche hobby, but that's not the case anymore.
Open water swimming has been growing in leaps and bounds, especially across the pond in the UK, who will be hosting over 89 open water swimming events in its seas, rivers, and lakes, and it's not hard to see why.
Open water swimming is an accessible sport that is fantastic for physical fitness, once you are able to get past the initial fears of hundreds of people around you, not being able to see the bottom of the ocean or lake, any creatures lurking underneath as well as currents, and tides. Ready to go and face your fears?
Basic gear
Before you make your way into the open waters, you're going to need the right gear.
Wetsuit: The first thing you need to start with is a wetsuit. You need to find one that is comfortable for you, and you should always look for a store where you can try it out before buying it, as there is a whole range of wetsuits. If you're still not sure if open water swimming is your thing, then there are a lot of events that offer the option of hiring your wetsuit, so you don't have to spend hundreds of dollars on a wetsuit if you decide the sport isn't for you. Another good thing about hiring your wetsuit for your first competitions is that you can try out different wetsuit types until you find one that suits you best.
Neoprene gloves, socks, and hat: These are great options if you are going to be swimming in frigid water and you're worried about being cold. However, bear in mind that some events do not permit swimmers to wear these.
Goggles: We recommend getting two types of goggles: one for sunny weather and one for overcast weather. For sunny days, look for UV resistant or mirrored goggles, and get some light or clear lenses for cloudy days.
Extra gear
Apart from your wetsuit, swimsuit, goggles, and towels, what else should go in your bag?
Waterproof sunscreen: It's vital that you use sunscreen whether the sun is shining or not, to protect your exposed skin from UV rays.
Anti-chafing lotion: This is also a must, to keep your skin from getting a heat rash.
Warm clothes: After your swim, especially if you're going to be swimming in the frigid water, it's important that you dry off and change into some warm clothing, including a hat.
Skills you need to be proficient in
There are some skills you need to master before taking the literal plunge into open water swimming.
Breathing
Breathing may sound simple, but there is a skill to breathing while swimming. You need to keep a regular rhythm, breathing in through your mouth and out through your nose. You need to breathe as much as you need, not as much as you believe you need.
When you are breathing, your shoulders and hips should be the ones turning, instead of your neck. Doing this will assist you in conserving energy, and you can shift your focus on swimming longer and faster.

Position of your body
You need to keep your body in a straight line as much as possible, as this will reduce your drag. Your head and eyes should be looking down, which helps to keep your legs up. If it seems complicated, don't worry, doing this is easier than it sounds. A lot of swimmers will just use their eyes to look down, keeping their head above water. However, one of the densest parts of your body is your head, so if you keep it up, your entire body will be dragged, and it will be harder to penetrate the water. Your crown should be breaking the water with your head looking down.

Propulsion
To achieve the maximum amount of propulsion, engage your lats, open your armpits and pull from the top of your fingertips. To propulse yourself efficiently, move through the water using the entire line of your body.
Sighting
When you're swimming in a pool, you have the comfort of clear water, a defined end, and lanes to keep you away from other swimmers. Unfortunately, none of those luxuries will exist when open water swimming, so it's essential that you know where you need to go. This is easier said than done, but with some practice, you'll be a sighting master.
While sighting, think like a crocodile, where the only thing that should come out of the water is your eyes. Doing so and only lifting your head a small amount will reduce your amount of drag. Make sure you regularly look up, so you can be sure you're swimming in a straight line. To avoid any zig-zagging, look up every ten to fifteen strokes.

Tips you need to master
Avoid getting pushed around at the start
The place you start your swim has loads to do with how crowded you'll be – and feel – once you're in the water. Everyone wants to begin in the middle, as that means they are closest to the first buoy, but keep in mind that everyone that starts on the sides is going to be moving towards the middle the first chance they get.
If you're just starting out, or you don't swim fast enough to avoid the crowds, you'll end up in one of the biggest and most congested crowds you've ever experienced. Therefore, we recommend starting towards the end of the shoreline, as you will still encounter people, but one side will be mostly clear, and you will have more room to dodge and overtake slow swimmers. You may have more distance to swim, but the better conditions will most likely lead to a faster swim time.
Protect your face
One of the biggest fears and risks for open water swimmers is a kick to the face. To avoid this happening when you're in the pack, try swimming catch-up style, which is commonly a stroke drill where on hand pulls through a complete stroke while the other is extended in front of you.
When you bring your hand back in front of you, start pulling with your other arm. When you are tightly packed, swimming catch-up style will mean that you always have one hand in front of your head, ready to catch any kicks from a wayward foot. Go back to a conventional stroke once you're in a less crowded environment.
Think before surging
It takes a lot of energy to accelerate in the water and pass another swimmer, so before doing so, stop and think if you're accelerating for a good reason. When you're in the middle of the pack, you're not going to get out of the draft by passing one person, but you run the risk of going to the side if you are in a long line of athletes, and end up losing your spot. Right at the beginning of your swim is the best time to work hard, as you'll get into a good position and save energy in the long run.
If you're looking for our advice, just get out there and try open water swimming. For a lot of people, the hardest part is just to embrace the sport, so jump into the deep end if you're thinking of trying something new. Once you've dipped your toe into the cold water, you're not going to want to get out. Trust us.