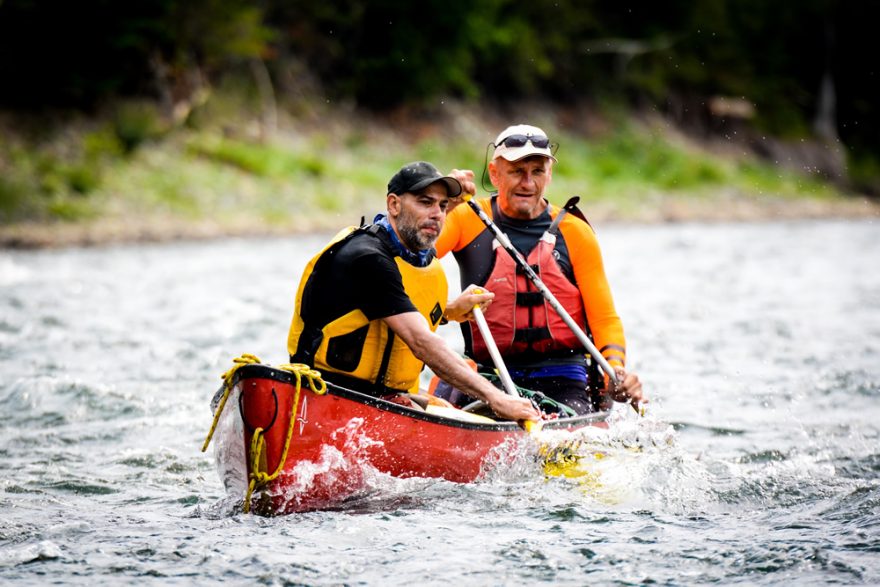 The coastal plain of North Carolina is comprised of sheltered estuarine waters, small rivers and creeks and open expanses of great sounds and rivers, offering you a wide variety of all sorts of paddling adventures. The various waterways found in the state are a great opportunity for paddlers of all levels, from beginners to experts to explore nature. 
Slow moving backwater streams, pristine cypress swamps, and extensive salt marged edge waterways invite you to enjoy and observe nature and its beauty at its best. Some of the activities you can enjoy while you're paddling include fishing, birding, visiting small communities and exploring historical sites.  
While you're out enjoying nature, it's important that you keep in mind how important clean water is to us and our planet, so before you head out on your paddling adventure, keep the following tips in mind:
Always respect the private property that is adjacent to public waterways

Properly dispose of your trash

Have the necessary safety gear on hand for each outing

Be aware of your paddling and physical abilities, and don't overexert yourself
Besides getting to enjoy the best of the outdoors, paddling has other great benefits for your body, as it's a great upper body and aerobic workout, you get plenty of vitamin D, you fulfill your sense of adventure, and it's surprisingly inexpensive. For a lot of your adventures, you don't even need a boat as most parks in North Carolina will rent out boats and equipment for around $5 an hour.  
Read on below for your guide to paddling in North Carolina, including the best destinations for kayaking, canoeing and whitewater rafting.  
Canoeing Destinations in North Carolina
Merchants Millpond State Park – Gatesville, NC
This is one of the best adventures you can have in North Carolina. This millpond is nearly 200 years old and spans 760 acres, and it's interspersed with tupelo gum and bald cypress. The Spanish moss that adorns their branches gives this paddle a feeling of being on the set of  "Create from the Black Lagoon." The further you set out, the more you become enthralled with the mystical nature of this wetland, which is overflowing with all sorts of wildlife. To help you keep your bearings, keep looking out for white posts marking the paddle trail.  
Price Lake in Julian Price Park – Blowing Rock, NC
When you paddle Price Lake, located in a well-preserved stretch of the blue ridge, you will find yourself in a cold mountain lake, surrounded by mountain laurel, rhododendron, and pines, with the great Grandfather Mountain emerging in the background.   
If you can't get enough this area, Price Lake is fantastic for all sorts of outdoor weather adventures. Take a memorable hike around the trails, where water laps at the shore and reach Grandfather Mountain. During wintertime, you can take a cross country ski tour, and there is a campsite available during most of the year.  
Lake Johnson – Raleigh, NC
For the more confident paddlers, head out under Avent Ferry Road, where you will find a more isolated section of the lake, where marshy wetlands and quiet fingers can be explored. You can continue paddling up Walnut Creek, and get a real sense of a canoeing adventure.
Lake Norman State Park – Troutman, NC
Lake Norman is North Carolina's largest manmade lake, spanning 32, 510 acres, more than enough to explore on your canoe. It also has a beach and a lot of opportunities for fishing, as well as a campground and community building. We would advise you to stay at one of the lakes many fingers remain out of the way of the powerboats that are fishing in the area.  
Kayaking Destinations in North Carolina
The below spots are all under the radar, so explore the river less traveled on these lesser-known kayaking spots, from the coast to the mountain.  
Roanoke River – Jamesville, NC
During colonial days, the Roanoke River was an essential route for transportation and trade, and it has now become a river abundant with recreational opportunities, from excellent kayaking options to superb bass fishing. One of the great kayaking spots is the Devil's Gut, named after its still, black water that can spook some visitors, especially at night. This is a comfortable and peaceful kayaking trip, where you can spot abundant wildlife as you will be paddling close to the forest. You can plan a day kayaking trip, or plan to make it an overnight trip, as there are many river camping platforms along the way.  
Rocky River Blueway – Midland, NC
You probably think that any place near Charlotte can't be relatively unknown, but that's because you've never been to the Rocky River Blueway. There are plans to stretch the blueway to be 59 miles long, but for now, you can kayak the first five miles, surrounded by beautiful scenery, which includes rocky bluffs, farms and fields and even some fun rapids. There is plenty of wildlife to be spotted, from woodpeckers to turkey, kingfishers and even some deer. One of the best parts is that the river does not experience very many seasonal fluctuations, so the water is great year round.  
Three Sisters Swamp – Atkinson, NC
For blackwater paddling enthusiasts, Three Sisters Swamp is the epitome of blackwater padding. The water is dark due to tannins in the water, creating an eerie effect, made more profound by being surrounded by some of the oldest bald cypress trees in the world. You can even spot a tree, named Methuselah which dates back to at least 364 AD, and it might not even be the oldest tree in the swamp, it's just the oldest tree forestry experts can accurately date. When you kayak the Three Sisters Swamp, you can enjoy scenery going from a wide hardwood-lined river to a narrow corridor enveloped by the huge bald cypress trees.  
Milltail Creek – East Lake, NC
If part of your sense of adventure requires you to kayak in a wild and remote place, then head out to Alligator River National Wildlife Refuge. There, you will find over fifteen miles of paddle trails making their way through the waterways, and you can find around ten miles of paddling amongst the marshes and woods of the Inner Banks on Milltail Creek. The area is jammed with wildlife, from birds such as herons and egrets to black bears and red wolves, which are more elusive. You have a high chance of spotting alligators in the marsh grass and the tree-lined waterways.  
Cheoah River – Robbinsville, NC
Cheoah River is great fun for experienced kayakers, as this run is all about the whitewater. While kayaking this section of the river, you'll encounter back-to-back rapids, which are all Class IV and V, so only head out here if you're skilled at kayaking. This river is controlled by a dam, so there are different river flows depending on the time of day and year you go, but water release dates are announced by the RVA, so you can figure out when the best water conditions will be.
Depending on where you enter the river, you will encounter some boulder fields, technical waters, challenging currents and a 12-foot waterfall. Once finished, you'll pass by the Tapoco Lodge, so you can reward yourself with some great food and a place to stay.  
Whitewater Paddling Destinations in North Carolina
The state of North Carolina is one of the top paddling destinations in the country, possibly due to its high rainfall, its dam released rivers, the remote gorges, and rivers that run through them or the beautiful mountains. For these and other reasons, including warm water play waves, welcoming Southern culture and the abundance of breweries, this area is a whitewater paradise.
Spring is the best time to whitewater raft in North Carolina, as its days are warm and long. The rainfall and melting snow fuel the waterways, so you can find yourself on a new river every day of the week. No matter if you're a beginner, and adrenaline junkie or an expert freestyler, there is a river waiting for you in the mountains of North Carolina.  
French Broad River – Rosman, NC
This most famous stretch of this run is secluded, and though it's comprised of Class II and III rapids and won't present much of a challenge to experienced whitewater rafters, there are a few holes and sequences to make it exciting.  
If you head out after some heavy rain, you can tackle the challenges presented by the West and North Forks of the River, which have an entirely different temperament. The West Fork is Class V with big drops, and the North Fork, while thought of as a Class IV Creek, has some mean Class V rapids.  
Green River – Asheville, NC
This scenic dam controlled river is considered the Holy Grail of whitewater in North Carolina.There are three distinct sections of the river offering a fantastic day of whitewater rafting for both beginner and experienced paddlers. The main staple for experienced paddlers is Green River Narrows, a steep and small volume Class V creek. You need precise boat control to navigate the technical and tight rapids, as well as the big slides that plunge through a heavily forested and deep gorge. If you are looking for something easier, head out to The Upper Green, a 3.7 mile run of Class III rapids. For something even mellower, The Lower Green is rife with Class II rapids for an easy and fun day out on the boat.  
Big Laurel Creek – Stackhouse, NC
Big Laurel Creek is tucked into a profound and wooded gorge, and as it is considered a class III/IV creek, it's an excellent introduction to whitewater rafting. If you are an ambitious intermediate paddler, you will love the epic feel and forgiving nature of this incredible creek. The river drops more than 200 feet in 3.7 miles and offers up three major rapids connected through lots of fun moves. The whitewater run beings in Hurricane and ends in Hot Springs. If you wish to continue, you can hike along and continue onwards in section 9 to be faced with a shallow stretch of white water before encountering two of Section 9's most challenging rapids, the Kayaker's Ledge, and Frank Bell.  
Nolichucky Gorge – Poplar, NC
This is a playful and beautiful intermediate run, which crosses the border to Tennessee. It's a great all day adventure for a warm day during Spring, but make sure to pack accordingly as it gets frigid during night time. You will encounter a series of straightforward Class III rapids, along with some great holes making for spectacular play spots. Be aware of the Quarter Mile drop, as it's the most dangerous of the river, but you'll be rewarded with mellow waves which are perfect for beginners.  
Pigeon River – Haywood County, NC  
Once you have mastered the French Broad, head along to the five miles run in Pigeon River with breathtaking views as it runs along the boundary of the Great Smoky Mountain National Park. You'll find lots of Class III rapids which create a stimulating ride for intermediate whitewater rafters. Pigeon River is dam controlled, and the water is released from 11:30 am to 6 pm. It's readily available and very popular, so don't expect to have the river all to yourself, as there will be plenty of other people enjoying themselves in kayaks and rafts.
Fortunately, people can now enjoy this river, as for most of the 20th century the river was extremely polluted from a paper mill, and the river had been declared biologically dead. During the year 200, snails, mussels and fish were reintroduced to the river, and it came back to life, along with paddlers that make this an enjoyable adventure.  
Paddling Camping Destinations in North Carolina
As you're now aware of, North Carolina is chock full of rivers for paddling, ranging from class III rapids to coastal blackwater streams. However, the number of rivers where you can adventure off on a multi-day camping trip is more restricted. If you are planning an overnight trip, a major consideration when deciding where to go is making sure there is a nearby campsite. Nor many rivers in North Carolina have public camping, and you might not get permission from private landowners to camp on their private land. There is always the option to use islands or sandbars to set up camp, but if you're doing so, do it smartly. If possible, request permission, respect no trespassing signs and if you are using islands or sandbars be very aware of changing water levels. And as always, appreciate and respect nature and take your trash with you, leave nothing behind.  
Some rivers which offer the opportunity for overnight trips are the following, but most of them will not have a public camping area along their length, so you might have to pack your canoe and drive to a campground away from the river.  
Cape Fear River – Raleigh, NC
You can find a public campsite at Raven Rock State Park, and the river is all Class I and II rapids. To run the entire length of the river, two days should suffice, and you can continue downstream all the way to the ocean.  
Congaree River – Richland, Calhoun and Lexington Counties
There's a lot to explore along this river, and it offers an adventure with its high bluffs, extensive sandbars, and floodplains. The highlight of this experience is the section along Congaree National Park, which is home to the longest tract of hardwood forest bottomland in the United States. Along with paddling the river, you can also enjoy a 20-mile network of hiking trails, bird watching, camping and enjoying nature.  
Dan River – Stokes County, NC  
This river is long enough for a several day trip, and there is a nearby campground at Hanging Rock State Park which has good facilities and is located on a scenic high rise. Most of the river is Class II, but it has one Class II rapid near Virginia. If you are looking to camp along the river, head out to the section in Rockingham County, where you will find Dan River Campground. It's more primitive, but you will be right in the middle of nature.  
Lumber River – Orrum, NC
Lumber River is a blackwater coastal stream, where more than 100 miles of river have been designated as part of the State Natural and Scenic Rivers system.  You can find camping on the Lumber River State Park. As a warning, there was some damage to the river corridor from Hurricane Fran, so consult beforehand for up to date information on any trees blocking river sections.  
Neuse River – Raleigh, NC
If you are up for a long and adventurous trip, you can paddle from Raleigh all the way to the Atlantic Ocean by Neuse River. Two campgrounds along the river are open to the public, one privately owned in Wayne County and a public campground at Neuseway Park.