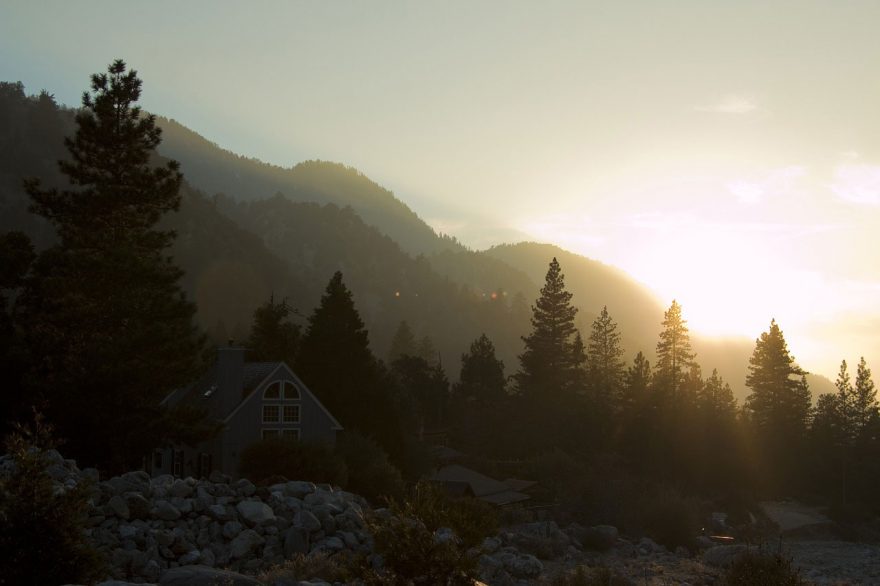 Whether you're a camping enthusiast or beginner, California offers some of the best camping options on the planet. It boasts nearly 15,000 campsites, 280 miles of incredible coastline and 3,000 miles of trails. So if you're looking for an adventure, California should be on your radar.
The great thing about The Golden State is that because of its mild year-round weather; you don't need to wait until summer to experience its amazing wildlife. Off-season camping in the spring or fall is one of California's best-kept secrets.
There are several types of camping available in California, including environmental, group, accessible and en-route camping, so you can choose the one that best suits your needs and level of adventure.
Environmental campsites can be found in mostly undisturbed natural settings and include tables, a tent clearing, and primitive toilets. Group campsites can accommodate large groups, with some parks being able to accommodate up to 100 people.
If you're ready to start planning your camping trip, it's important that you bear in mind that you need to make a reservation before arriving at the campsite. Please note that camping along the highways is illegal, camping is only allowed in designated campgrounds. The reservation fee costs $7.50 and is non-refundable.
You can make your reservation at the California State Parks Website. Each month, the park will post available start dates, and you can make your reservation from seven months up to two days in advance. However, we recommend reserving as early as you can, as reservations are subject to availability and some parks fill up fast.
Checking Into the Park
Check-in begins at 2 pm on the day of your reservation start date. You will need to give the park ranger your reservation voucher, confirmation number and proof of ID. You will then be given your campsite arrangements; this will give you your tent's location. If you are taking your pet with you, bear in mind that they need to be kept on leashes during the day and inside your tent during the night. They are not allowed in trails, most beaches, and park buildings. The checkout time is noon – make sure to pick up after yourself, leaving everything as you found it.
Cancellations
If for any reason, you need to cancel your trip, here is some information. Any cancellations made after 5 pm on the day before your arrival date will forfeit the campsite fee for the night. If you need to cancel your trip at any time, the $7.50 reservation fee is non-refundable. You can cancel online or by calling the State Park Call Center, at 1 (800) 695-2269.
Your reservation will be held until noon on the day after your arrival date. If you have not contacted the park regarding your cancellation, it will be canceled. You will receive a refund of the amount you've paid for the campsite, minus the reservation and cancellation fees, and a one-night usage fee.
If the park is closed due to an emergency or disaster, they will do their best to contact you and notify you of the park's closure as soon as possible. Should this happen, you will be refunded all your fees.
Wildlife Safety
While camping in California, there's a big chance that you'll encounter wild animals at some point in your trip. Taking some basic precautions will ensure that your camping trip remains a fun and safe experience.
Usually, wild animals are wary of human beings, and their most likely response will be to flee from any interactions. However, animals that have been around campsites tend to get used to people, and this is where the trouble can start. You need to remember that all wild animals are dangerous, including elk and deer.
If you want to take pictures of the wildlife, use a zoom lens or try enlarging the photo after you've taken it; never move closer to the animal to take a better picture. It's never a good idea to approach the animals, as they will be more prone to attack you.
To prevent close encounters with wild animals, follow these tips:
View from far away: Never approach them or entice them, no matter how gentle they appear. If you want a closer look, use your zoom lens or binoculars.
Give them their distance: Even vegetarian animals that seem docile can gouge you with their horns. To ward off sudden attacks, you must give predators (such as bears) a distance of at least 100 yards, and give grazers (moose or elk) a distance of at least 40 yards.
Store your food: You must store all food in bear-proof containers. This will discourage bears from approaching you and your campsite.
Keep it clean: Your campsite must be kept clean of any food scraps, leftovers, dirty dishes, empty cans or bottles, food wrappers and soap and other wrappers as it all can attract animals.
Some of the most common wildlife in California are black bears, coyotes, mountain lions, deer, and elk. Below you can find more information about these animals and what to do to stay safe in the case of a close encounter.
American Black Bears
Black bears are relatively common in some wilderness areas of California, especially the mountains. However, there has never been a recorded fatality resulting from a bear attack in 149 years. This doesn't mean you don't need to be cautious, though!
You're more likely to encounter a bear in Yosemite, as they have been accustomed to humans and human food. The problem usually lies in the following situations: getting between a female bear and her cubs, not storing food properly or startling a bear in the woods. A frustrated and hungry bear is prone to attack, so please take some precautions.
One safety tip is to hang something like a pot or tin cup to the outside of your backpack. This will create noise and will warn bears. It's also important that you store your food in park-approved, bear-proof containers. Dispose of all your garbage, and leftover food in the camps bear-proof trashcans and never try to feed the bears.
If you happen to encounter a bear, don't run. Face the bear without making contact, make some noise and attempt to appear as large as possible. Report any close bear sightings to park ranges so they can patrol the area.
An informative PDF on black bear safety can be found here.
Coyotes
Coyotes are mostly a hazard to small housepets. So if you bring a dog with you, make sure to have it on a leash during dusk and dawn to avoid being injured by a coyote. There have also been reports of small children being bitten by coyotes, so if you have a toddler, keep an extra vigilant eye during these times.
Mountain lions
Mountain lion attacks on people are very rare. Even so, you still need to keep certain safety precautions in mind while hiking in areas where you may encounter mountain lions. If possible, go in a group and keep small children close to you, as they can be targeted by mountain lions. If you happen to come across one, making yourself as large and intimidating as possible can help, as well as yelling and throwing rocks.
An informative PDF on mountain lion safety can be found here.
Rattlesnakes
They are pretty common around California, and while they are not aggressive, they can pose a risk if you accidentally step on one. To avoid this, be very aware of your surroundings and where you are placing your feet. If a snake bites you, seek medical attention immediately.
Deer
There haven't been any reported injuries when it comes to deer, but that doesn't mean it can't happen. When males are in their rut, during the fall, they become unpredictable and aggressive. If you startle them or get between them and a female deer, there's a chance you will be charged. If this happens, the best thing to do is duck behind a tree or some other obstacle to prevent being gored.
Elk
There are many elk herds within State Parks and Redwood National that may appear tame, but this is not the case, so be careful. You might encounter them anywhere in the parks, including river bars and beaches. You need to give them plenty of space. If you encounter one at close range, stay with your group if possible, avoid direct eye contact and walk away slowly while making noise. If an elk happens to charge, take cover behind a tree or another solid object and make noise, so the elk knows where you are.
Where to camp
California is a big state, and it offers a variety of camping options – from waterfalls to beaches to forests, there's something for everyone. If you're interested in a particular area, keep reading to check out some of our camping site recommendations. Please note that you need to make a reservation to camp in any of these parks unless otherwise noted.
Big Sur
Andrew Molera State Park: This park offers a walk-in campground, and no reservation is needed, as it's on a first come, first-served basis, so arrive early! The Big Sur River runs through the Andrew Molera State Park, and you can enjoy many miles of trails through beaches, hilltops, and meadows. This area is still underdeveloped, offering you great hiking opportunities and a chance to get close to nature.
Bottchers Gap: You will be able to enjoy excellent hiking as well as a view of the Ventana Double Cones and the Santa Lucia Mountains. It tends to be undercrowded, so it's a great place to go if you're looking for solitude. No reservations are necessary.
Julia Pfeiffer Burns State Park: Stretching from the Big Sur coastline into 3,000-foot ridges. It's a fantastic place for tree watching, as you will encounter tan oak, redwood, madrone, and chaparral. The Overlook Trail will reward you with an encounter with McWay Falls, an 80-foot waterfall dropping from granite cliffs into the ocean. This is a secluded campsite, featuring views of the sea through the redwoods.
Pfeiffer Big Sur State Park: You can hike, swim and enjoy nature in this park. It features redwoods, conifers, cottonwoods, sycamores, alders, willows and maples with meadows nestled amongst them. There are many scenic loops to enjoy, including Valley View Trail which offers fantastic views of the Big Sur Valley and the Pacific Ocean.
Camping in the Redwoods
Redwood National and State Parks: This is a remarkable network of parks which protect nearly half of the world's coast redwoods. These trees are the tallest living things, growing up to 350 feet high. As well as these majestic trees, you will also find Roosevelt elk, wild beaches and a myriad of rivers. If you are planning on coming between October and April, come prepared for some rain. Annual rainfall is 60 to 80 inches, so make sure to pack sturdy nonslip shoes and rain gear.
Prairie Creek Redwoods State Park: Visiting this park feels like walking into a rainforest. Streams of light fall between the mossy trails with arching ferns above you. You can hike amongst the ancient Redwoods on the Prairie Creek and Cathedral Tree loop. You can also visit Elk Prairie, a meadow where an encounter with Roosevelt Elk is likely. If you are looking for beach camping, you're able to do so in Gold Bluffs Beach.
Enderts Beach: This is one of Redwoods National Park's most scenic beaches. You will find a driftwood-laden rock-studded shoreline. You will need to hike about a mile to get there. There is also a campground option nearby, Nickel Creek Campground if you want other than a tent to sleep in.
Northern California 

Calaveras Big Trees: This campsite is open until late November, and features great cold weather camping. It's situated in the High Sierras and expands over 6,400 acres. During winter months, you can snowshoe or cross country ski through the giant sequoias. The campsites have a fair distance between them, so you will be able to enjoy some solitude and privacy. If you are looking for a challenging hike, try the three-day 29-mile Skyline to the Sea Trail hike, running from the Santa Cruz mountains all the way to the Pacific Ocean.
Big Basin State Park: These campsites are tucked away in the Santa Cruz mountains and provide a cozy respite from the city. It experiences mild fall temperatures year-round, so it's a great place to surf and camp all throughout the year. A no-miss is a hike up to Berry Creek, where you will find multi-layered waterfalls nestled amongst a lush green backdrop.
Bothe-Napa Valley State Park: The campground is located on the edge of Napa wine country and features more than 10 miles of hiking trails nestled amongst redwoods, maples, oaks and madrones. You can pick up some bottles of wine from nearby Napa and have a picnic in one of the many meadows.
Campsite Symbols
Now that you've decided where you want to go, it's time to make camping reservations. The easiest way to do this is to book online, at a camping reservation website or the California State Parks Website. Once you've selected the campground, the strange symbols and icons that appear next to each listing can be a bit confusing. You may see small images of electrical plus, wheelchairs and lightning bolts with a number next to them. You can also find strange phrases such as "vault toilet," "full hook-ups" or "pull through." To make things even more confusing, the map of the campground may show small drawings of motorhomes, tents, trailers, water faucets and showers.
To help you decode all the symbols and make sure that you choose the right spot for you, here's a list of the symbols and what they mean:
Site Type: This indicates the level of comforts available. There are campsites with no amenities (usually listed as primitive), standard comforts (fire ring, picnic table) and premium (fire ring, water, sewer, electricity).
Amenities: These icons will let you know if there is electrical power, the amp number. It will also show if there is water, sewer, and electricity.
Max # of people: The maximum number of people that can fit into one campsite.
Campground Amenities: These icons will let you know if it is accessible for people with disabilities, and if there are fire rings, showers, hiking trails and a visitor center.
Vault toilet means that there are no flushing toilets, only outhouses.