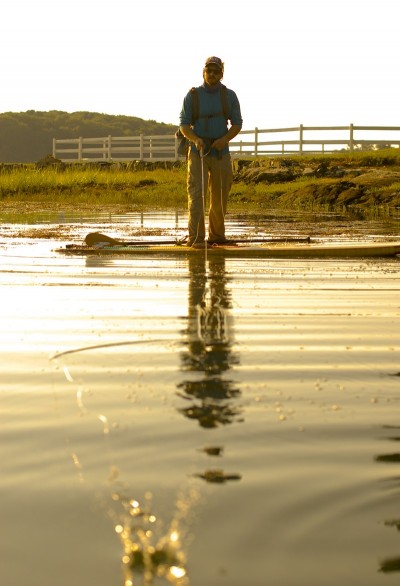 There are more ways to get out on the water now than ever before. It's an exciting time if you dream of moments on the big blue, and you have plenty of options to get out there. From fishing-specific kayaks with pedals to outriggers to shallow water skiffs and canoes that you can pole along your favorite flat, the world is your oyster—well, in this case, the water is your oyster.
One vehicle that stands out is the increasingly popular SUP (stand up paddleboard). You are probably thinking back five years ago when your local waterways consisted of boats and kayaks and not much in between, but now, gazing out at the horizon, it's easy to spot stand up paddlers fishing from their crafts, practicing yoga, racing, cruising, duck hunting, etc. Stand up paddleboarding has quickly become one of the fastest growing outdoor sports, and with good reason. It has a low barrier to entry, the boards are more stable than you would expect, it's a phenomenal workout, and you can merge some of your favorite activities with stand up paddleboarding. Add that all up and you have the recipe for an explosive new sport.
If you ask Kyle Schaefer and Kent Scovill of Tidal Roots, an outdoor company that hand builds custom and retail wooden SUPs out of domestic and reclaimed wood in southern Maine, you will likely get an ear full about SUP fishing. After years of kayak fishing, the founders stumbled upon SUP fishing and gave it a whirl. With a first careful step upon the deck of a 12-foot fishing board, Kyle remembers his first outing well. "Fishing from a SUP allowed the ultimate mobility of the cast, enabling an increased window in which I could present a fly," he recalled. You will find Kent and Kyle patrolling the flats of New England searching for striped bass in the spring, summer, and fall. "It's changed the game in terms of sight fishing. We can get to places we haven't been able to reach before and best of all, fish are uninterrupted by our stealthy approach," Kyle continued.
There are certainly still plenty of skeptics out there but it seems that stand up paddleboard fishing is here to stay. Kent has a hunch as to why. "It's the freedom of movement and intimacy with your environment in which SUP fishing allows me to connect to the outdoors," he said. As anglers, our time on the water is often defined by a peaceful escape from whatever robs our time during the week like jobs, bills, and maybe jury duty if you're lucky. SUP fishing helps to halt the world and connect the angler to the outdoors.
Now, we challenge you. Whether you're in the Rocky Mountains fishing freestone streams for trout, the Midwest for large mouth bass, or Florida for bonefish, there is likely to be an outfit that rents stand up paddleboards in your neighborhood. Haven't you always wanted to walk on water? Grab a couple friends, throw a board or two on top of your truck, and head to the water. When you hook your first big fish, and you hear that reel screaming while the bow of your board pushes wake, you will thank me because there is absolutely nothing like it.
Image courtesy of Kyle Schaefer/Tidal Roots