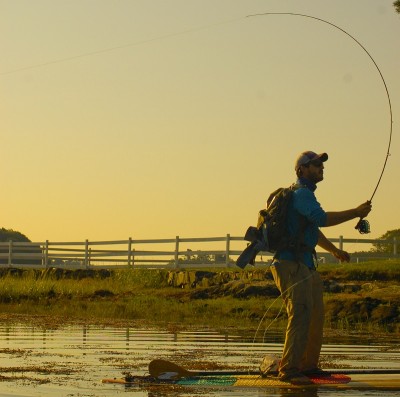 Kyle Schaefer, co-owner of Tidal Roots, a manufacturer of handmade wooden SUPs in Maine, walks us through the do's and don'ts of SUP fishing.
The difference between a successful day on the water and a beating is usually only a couple degrees. I remember a six-day backpacking trip in northern Colorado when I forgot my dry fly box and had to stare at the noses of native cutthroat munching on terrestrials for the remainder of the trip. Or the time when the stripping basket didn't make it into the vehicle for a Cape Cod surf casting trip. Even better, I remember the time I was supposed to grab beer in Colorado before getting to the Green River in Utah. Just kidding…I never forgot the beer.
Anyway, I'm sorry to bring up these painful memories. As a fly fisherman, I pride myself on understanding the nuances of the discipline and making slight adjustments to increase my success, turning a good day into an epic day. In my experience, this rings true in most of the outdoor pursuits I enjoy. SUP fishing certainly falls into this category. SUP fishing can be incredibly rewarding, but missing a couple key pieces of gear can be the difference between fighting the wind all day or fighting fish all day. Whether you are on the salt, the river, or your favorite still water, remember these tips to increase your enjoyment on the water.
Work with the Elements
Stand up paddleboards are lightweight and ride high on the water's surface and, needless to say, current and wind can play a big role in the kind of day you have. Make sure that when choosing your fishing grounds to target you are taking into account the wind, currents, and tide. More often than not, either paddling to or from your fishing destination, you will be fighting at least one element. An important key is to work with the elements, which will undoubtedly help you to truly connect with the outdoors. Work with the winds, tides, and currents to move you in the direction that you want to fish or to help you work a section of water. It's important to remember that you will have to paddle back to where you put in, keeping in mind that it may be against the elements.
Anchors Away
I always carry a small anchor with me when I'm SUP fishing, and end up using it every time I'm out on the water for one reason or another. Often, I will paddle to a fishy spot and anchor up. This will enable me to spend time fishing and not have to focus on getting into position. Let's say you're drifting through a hot spot and break a fly off—it's a great idea to delicately drop an anchor and re-tie so you don't miss an opportunity for a strike.
Line Management
Line management is always an important issue. When it's correctly done, you're ready for the next cast. Plus, when you hook that monster and the run is on, your line will slide smoothly through the eyes of your fly rod, knot free. There are several solutions for managing your line effectively on a SUP:
Stripping Mat: a spiky mat that lays on your paddleboard and collects your line as you retrieve your fly. The mat helps to keep your line on the board when a wave comes by and washes your neat pile of fly line off. Also, the mat protects from the wind tangling your line.
Stripping Basket: Some prefer a stripping basket that you can wear around your waist. This is all personal preference but serves that same purpose—to effectively organize your line and keep you prepped for the next cast and hook set.
Storage
You have two basic options here. You can attach your gear to your paddleboard deck rigging in a dry bag or carry your gear on your back in a waterproof pack. Either way you go, make sure your gear is quickly accessible so you can reach it comfortably from your paddling position. Having all your essentials within reach with aid in easy fly changes, or even aid you in switching to a sinking line when the fish are deeper than expected. Every SUP enthusiast has their own preferences, so make sure you are paying attention to the flow of your own particular use of fishing equipment.
Constant tweaks and paying attention to these details will help you to become a pro in no time. There are plenty of boards on the market tailored for fishing that will help you to streamline your experience. Tidal Roots offers fishing-specific boards fully customizable so you can spend your time on the water getting towed by your quarry. Remember, hooking a big fish on your SUP is the best free ride in town. As always, enjoy your time on the water connecting to the outdoors, and fish on!
Image courtesy of Kyle Schaefer/Tidal Roots