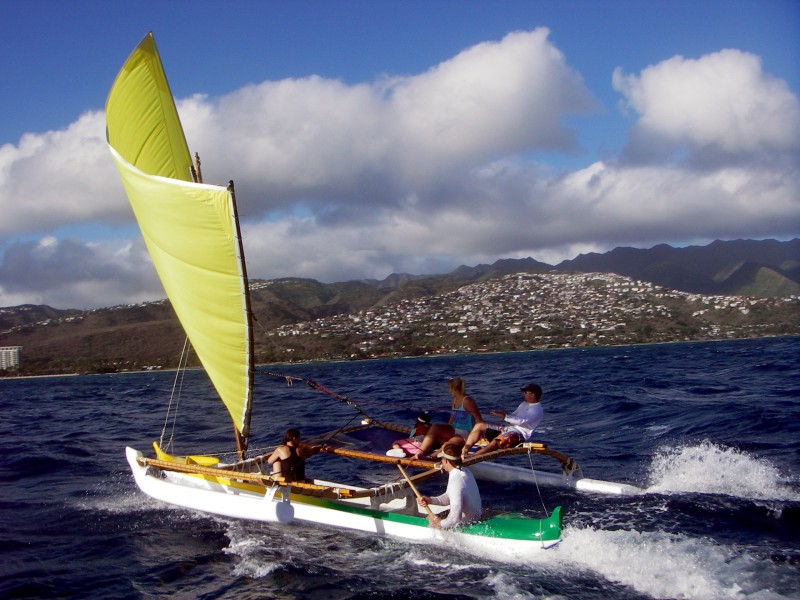 Outrigger canoes are comprised of one or more lateral support floats that are connected to one or both sides of the hull. These are known as sailing canoes and they have Polynesian heritage, and are often used in modern competitive races.
"Taking to the water in an outrigger canoe is not at all leisurely. This canoeing does not include stopping to peer into houseboats on Lake Union or exclaiming over a glorious sunset or pausing to chitchat with the rest of your crew," The Seattle Times stated. "Outrigger canoeing is a little bit relentless. When you are one of six paddling in a single boat, making sure your paddle hits the water to the rhythm called by a pacesetter in front, canoeing requires concentration. Glance at the houseboats and you might miss the call to switch paddles to the other side of the boat."
According to Outrigger Santa Cruz, although these canoes were used commonly in the Pacific and Indian oceans, the racing aspect of the sport originated on the Hawaiian Islands.
"Paddling an outrigger canoe is more similar to rowing crew than my previous, relaxed experience canoeing," the Times stated. "Everyone syncs their strokes, roughly 50 to 65 per minute, and a caller tells us when to switch sides. We used traditional calls, including 'hut' to signal we were switching sides and 'hoe' to paddle. With all that manpower, the boats go fast."
This is not a sport for beginners, but if it sounds interesting, set up a practice session with a local canoe club to learn the basics.
The Kent Island Outrigger Canoe Club stated that efficient technique is imperative to having not only an enjoyable experience on the water, but making sure the canoe is moving as fast as possible.
"Marathon and outrigger racers who have not only survived multiple-hour races, but finished strongly, have learned a lot about taking efficient strokes," the club stated. "Outrigger canoe racing is an endurance sport. The leaders of a cross-country ski race or a runner in a marathon or triathlon appear to be gliding along with minimal effort. Their motions are just enough to get the job done without wasting precious energy. Hence the rule in endurance sports: Working hard does not ensure that you are going to go fast."
The Vernon Racing Canoe Club recommends that people bring, in addition to a paddle, a beverage, head protection, a dry T-shirt, sunscreen, footwear, and neoprene shorts, which are wet suit material that act as a cushion from the seat, making the trip comfortable.
In regard to launching, the Kihei Canoe Club recommends that people plan their trips in advance with the weather, swell, wind-driven chop, and daylight in mind. If you feel uncomfortable with any of the before-mentioned conditions, do not launch the canoe.
Image from Daisy Field on the Wikimedia Commons