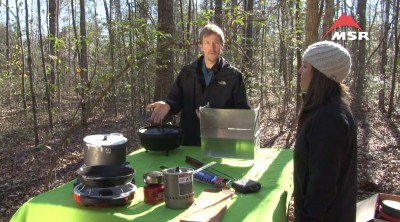 For the uninitiated, great meals in the great outdoors may seem like an oxymoron. But with a grounding in the basics, anyone can cook like a pro when away from the kitchen.
Adapt accordingly when you're away from the kitchen
Master the more simple recipes before increasing the challenge level. Avoid complicated, multi-course meals. And don't try to bring the kitchen with you! Learn to multi-task with your gear, and further reduce your load by packing only what you'll need.
Recognize that different types of trips require different approaches to cooking
Campground or backpacking trail? On water or high ground? Small or large group? Short or long trip? Fair or foul weather? Wild animals? These are some of the important questions to ponder before planning your menu and gathering the equipment. Stout gear is ideal for the campground, but light and compact cookware is necessary when carrying it in a pack. On the water, less bulky gear is always a good idea, especially if portaging a canoe or kayak is required. And foul weather and pesky animals will drive you to favor simpler and fast recipes. Prepare accordingly.
Understand your gear options
Stoves and cookware designed specifically for backpacking are compact and lightweight, usually intended for cooking for no more than a few people. In contrast, equipment for the campground setting is designed to be rugged and generally adequate for larger groups. Because this type of gear is carried in your trunk or trailer, instead of on your back, more options are available, such as using cast iron cookware.
Consider the range of outdoor cooking techniques available
What are your food preferences and favorite cooking techniques? The answers will determine the types of recipes best suited to your trip as well as the cooking methods to go along with them. Using a pot or pan over a backpacking stove is the most common form of food preparation on the trail, but other forms of cooking are available, if pack weight permits (for example, a pack oven) or local regulations allow (e.g. a campfire). In the campground, the options are nearly endless: pots or pans on the camp stove; grilling, foil cooking, plank cooking, or baking over a campfire; cooking in a Dutch oven over coals; baking in a box oven with coals; using a cooking iron or camp fork over flames; and, of course, the many no-cook options that are available.
Keep safety in mind at all times
High heat, sharp utensils, noxious fumes, heavy and hot cook gear, bacteria, viruses, and wild animals with teeth and claws: cooking outdoors without regard to these will ultimately end in injury or illness. Cook only in a fire-safe area in a quiet corner away from the action. Exercise vigilance around any flame. Work slowly and methodically. Don't cross-contaminate uncooked foods with raw meat or eggs. Sanitize your hands. Keep perishable foods cool. Properly seal and store food items. Maintain your cooking equipment in good working order. Use windscreens to prevent flying embers. Keep you and your camping buddies healthy by being a lifelong student of safety!
Check out the video embedded below for more info on camp cooking basics.
Want to become a acclaimed master chef of the wilderness? Planning, practice, and attention to detail will get you there.
Image courtesy Camp Cooking TV