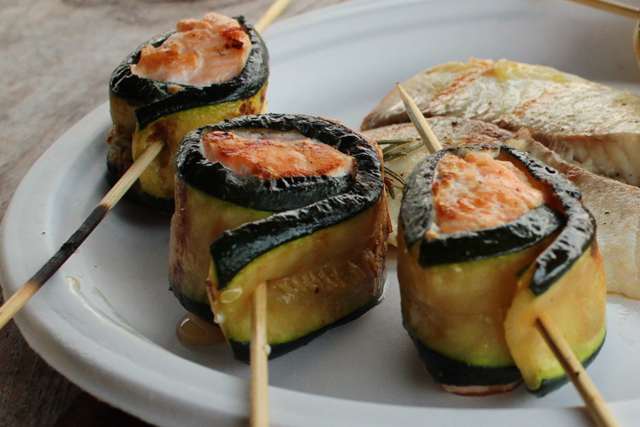 For an easy gourmet recipe to bring with you into the outdoors, try Chef Dawn Bause's zucchini-wrapped salmon. Most of the preparation can be done at home and the recipe doesn't require many ingredients, yet the flavor and final presentation are spectacular.
On a warm April evening in a Michigan state park, Chef Bause demonstrated multiple recipes that are healthy, delicious and can be easily cooked in the outdoors. Before she got to the zucchini-wrapped salmon, she was cooking a grilled rosemary tilapia (which can still be seen cooking in the video below), a baked rosemary tilapia with tomatoes and vegetable cous-cous.
Chef Bause's advice to camp cookers is to "prepare ahead of time." As you'll see in the video below, she has already cut up all her ingredients, and even pre-grilled the zucchini so she can skip many steps to get to the cooked final product faster.
[ohubvideo code="M2c2x2NDr8smwh1X9f1xs0i-BcDGcJw-"]
Ingredients:
1 salmon fillet cut up into chunks
zucchini sliced semi-thin
olive oil
coarse salt and fresh-cracked pepper (to taste)
Directions:
Begin by soaking skewer sticks in water (only if they are wooden). Cut zucchini thin enough to be able to wrap it around a ball of salmon, but not so thin that it'll disintegrate under high heat. Chef Bause uses a mandolin to cut hers. Pre-grill the zucchini on aluminum foil on a charcoal grill just until it becomes soft enough to wrap around salmon without breaking. *May be pre-cooked at home and taken along for the camp outing in a Zip-loc bag. In the meantime, cut salmon into golf ball size chunks. When zucchini is ready, wrap it around the salmon and stick a skewer through the middle as seen in the video above. Grill above the campfire, preferably on an adjustable grill sheet for the campfire, for 10 to 15 minutes, turning occasionally.
Photos and video by author