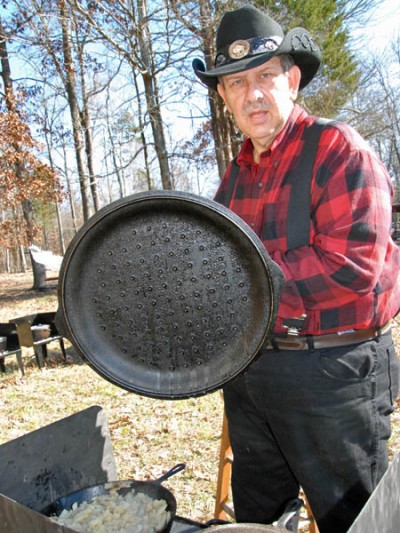 Check out part three of this series on camp cooking with J. Wayne Fears by clicking here.
J. Wayne Fears wrote the book on Dutch oven cooking. Well, one of them at least. He's the author of The Complete Book of Dutch Oven Cooking. Fears grew up on Tater Knob Mountain in northern Alabama. His dad harvested and sold ginseng, in addition to trapping, hunting and fishing – like the original mountainmen and survivalists. During his early years, J. Wayne Fears followed along behind his dad and learned how to survive in the wilderness. At college, Fears got a degree in forest recreation and has been an outdoor writer for more than 40 years. Dutch oven cooking was a natural way of life for the Fears family.
Another important cooking utensil for the frontiersmen and the chuck wagon cooks of the Old West was a large, cast iron skillet. Besides being great for frying steaks, bacon and ham, they also could be used to fry up potatoes with onions, salt and pepper to provide a hearty, tasty dish that was quickly prepared and easy to cook. The potatoes were often served with a stew, with freshly-killed game or with any type of pork, beef or fowl that the early settlers had. Using a cast-iron skillet, Robert Graves shows us how he prepared a big skillet of potatoes and onions for the Wounded Warriors who attended the Camp OutAmongEm (email [email protected]) hunting and fishing retreat recently held in north Alabama.
To learn more about cooking in a Dutch oven, you can buy Fears' book from www.skyhorsepublishing.com.
Enjoy this video with Robert Graves on cooking over hot coals in a large cast-iron skillet filled with potatoes and onions.
httpv://youtu.be/TxpSe00V91I