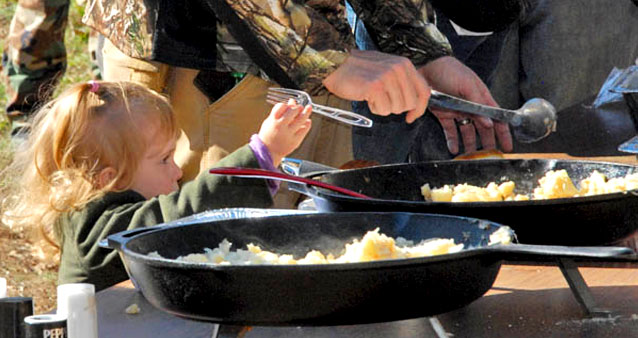 J. Wayne Fears wrote the book on Dutch oven cooking. Well, one of them at least. He's the author of The Complete Book of Dutch Oven Cooking. Fears grew up on Tater Knob Mountain in northern Alabama. His dad harvested and sold ginseng, in addition to trapping, hunting and fishing – like the original mountainmen and survivalists. During his early years, J. Wayne Fears followed along behind his dad and learned how to survive in the wilderness. At college, Fears got a degree in forest recreation and has been an outdoor writer for more than 40 years. Dutch oven cooking was a natural way of life for the Fears family.
When early settlers started moving from the East to the West, they didn't have crockpots or electricity, but they did like the flavor of food slow-cooked over an open fire. As soon as they set up camp, the early frontiersmen, cowboys and settlers usually would start a pot of navy beans and country ham (ham that was preserved in salt and smoked to extend the life of the meat for long trips) to cook over a fire. Besides the Dutch oven, most cooks on wagon trains and cattle drives carried cast iron pots that could be suspended over the coals of the open fire. Then the beans and ham could cook, while other chores were being completed around the camp. Dried beans were always an easy-to-carry staple that required no refrigeration. Even though many opted for pinto beans, red beans or black beans, the navy bean became a staple food for the frontiersmen.
In this video, Fears gives the recipe for his navy beans cooked over a fire and shows you how to prepare them.
httpv://youtu.be/avofUFRnNX0
To learn more about cooking in a Dutch oven, you can buy Fears' book from www.skyhorsepublishing.com.
If you liked this article, check out these articles on Fears' cowboy cathead biscuits and chuck wagon venison stew. Click here to learn how to cook potatoes and onions in a cast iron skillet.