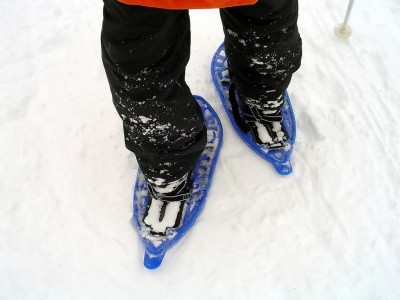 Winter is still at its peak and it is time to plan a snowshoe getaway. Many travelers associate winter sports with being expensive, but that doesn't have to be the case. It's possible to plan affordable snowshoe trips with your friends if you are strategic with your budget.  Here are some things to keep in mind while planning your trip:
Split the Cost with Friends
The best way to keep the cost down is to split the cost. While many hotels charge per room and sometimes have per person surcharges, most vacation rentals have a flat daily or weekly fee. This means that you and your friends can get better value for your buck if you all split the cost. For example, if you coordinate a trip to Big Bear, you could pay for either multiple hotel rooms or split the cost of a Big Bear vacation rental sleeping 10+ people per night for less than $50 per person per night.
For an even more affordable trip, choose a smaller rental with a pull-out couch or bring along the sleeping bags.  Another benefit of vacation rentals is having your own kitchen. Swing by a grocery store and stock up on food and drinks to save money on eating out.
Equipment Rentals
Some avid snowshoe travelers will have their own equipment. If you don't have your own equipment, you will want to research equipment rentals before you leave home. Often it is more affordable to rent equipment from a local sporting goods shop than to rent once you arrive at your destination. Equipment renters near popular snowshoe destinations know that you need the equipment, and therefore can charge whatever they like. Be informed; all it takes is a quick phone call to your local sporting goods shop to find out how much a rental costs.
Transportation
Splitting the costs and sharing resources is the key to saving money on any group trip.  Plan on carpooling with friends and then split the cost of gas.  If you can't drive and must fly, it is worth investigating group discounts. Some air carriers will even provide discounts for groups of five or more people. Hunt around on airline websites or talk to a travel agent about group airfare deals.
Location Research
The last piece of the puzzle is where to snowshoe. While of course you will want to consider the snow conditions and the status of the trails, another thing to keep in mind is the location. Does it have a reputation for being expensive? If your group of friends wants to plan a night on the town, will it cost too much? Venturing off the beaten path often turns up good results for snowshoeing — and your wallet. Avoid the most in demand locations which often have higher prices and try to find the hidden locals spots.
One final thing to consider is whether or not you want to splurge on certain items. For example, would you use a fireplace or outdoor jacuzzi?  You might be able to find good values on rentals or hotels with these amenities if you hunt around.
Plan ahead with your group to save money and stay on budget.  Maybe you'll have enough money for a second snowshoeing trip before the season is over!